Are you searching for wireless headphones for your multimedia needs? It is quite cool that you chose Soundcore. And the good thing is that two headphones are very much popular in the budget range. It is possible that you have come here to compare these two. To make your decision easier, We are presenting Anker Soundcore Life Q20 vs Life Q30 so you can buy the best one happily.
People buy headphones if they like listening to music for long hours. That is because the in-ear devices feel stuck in the ears after a long time. It's like forcing your ears to listen to the music, even if they don't want to. While headphones, especially over-ear, take better care of your ears with comfort.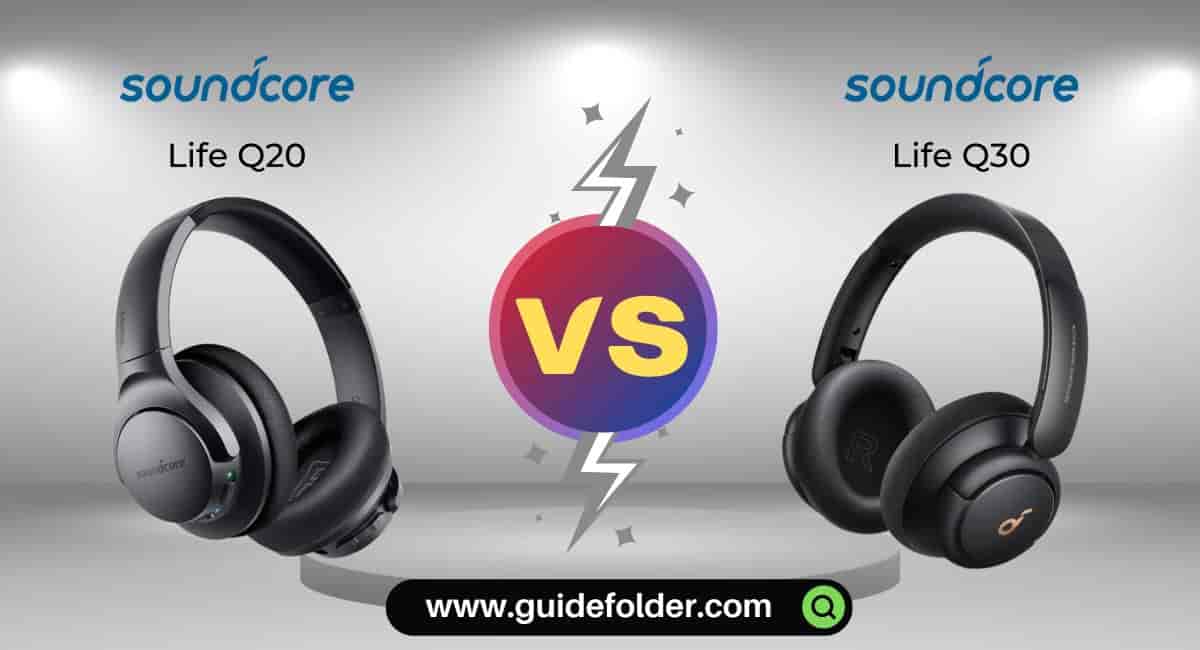 Build & Design Comparison
| | | |
| --- | --- | --- |
| Product | Anker Soundcore Life Q20 | Anker Soundcore Life Q30 |
| Type of Headphones | Wireless | Wireless |
| Design | Over-Ear | Over-Ear |
| Built with | Plastic & metal | Plastic & metal |
| IPX rating | None | None |
| Foldable | Yes | Yes |
| Hinges | Metallic | Metallic |
| Weighs | 9.3 ounces | 9.3 ounces |
| Overall | Good | Better |
Looking at the build quality of the headphones, First, we can discuss Soundcore Life Q20. The headphone has a hefty design. They are primarily made of plastic, however, the headband is reinforced with a thin metal sheet. The headphones seem generally dense and solid enough that they should be able to survive a few inadvertent drops or bumps without suffering too much damage. Their hinges, however, are probably their weakest feature because they feel hollow and plasticky.
On the other hand, the Soundcore Life Q30 features a straightforward appearance with a black satin finish. On both of the earcups of this version, there is a little, gold logo. These are aesthetically pleasing and moderately comfortable. These are lightweight and steady overhead with an excellent control system. They feel strong because they are primarily constructed of plastic and silicone-like materials. Along with a metal plate in the headband, there is faux-leather padding on the cups and the headband. They feel sturdy enough to endure for a while.
Connectivity Comparison
| | | |
| --- | --- | --- |
| Product | Anker Soundcore Life Q20 | Anker Soundcore Life Q30 |
| BT version | v5.0 | v5.0 |
| Wireless range | 15m | 15m |
| I/O Ports | Aux, micro-USB | Aux, USB-C |
| Latency | Usual | Usual |
| Multi-device connection | No | No |
| Instant Pairing | Yes | Yes |
| Overall | Good | Good |
In terms of connectivity, we did not find any difference other than the Charging port. The Life Q30 has USB Type-C while Life Q20 has an old Micro USB port. Apart from this, there is nothing as a difference between these two headphones. But these two headphones have something strange in terms of wireless range. They can gear up with the device up to 15 meters, which is 5 meters more as compared to other Bluetooth devices.
The Bluetooth version, however, may sound old and outdated. Newer versions have better latency and some devices also possess dual pairing/multi-device pairing.
Battery & Charging Comparison
| | | |
| --- | --- | --- |
| Product | Anker Soundcore Life Q20 | Anker Soundcore Life Q30 |
| Battery Capacity | 720mAh | Not mentioned |
| Playback time | 60 hrs | 60 hrs |
| Quick Charging | Yes; 5 min = 4 hrs | Yes; 5 min = 4 hrs |
| Charging time | 3 hrs | 3 hrs |
| Charging Port | micro-USB | USB-C |
| Overall | Good | Better |
If we look at the battery and charging properties of the headphones, the only difference is the charging port as mentioned above. Both the headphones run approx 54-55 hours, close enough to what they claim to be 60 hours. While with ANC being on, these can stay up to more than 35 hours. That too depends on the noise volumes and more factors.
Mention, the figures are great enough that they can last long for near to a week if you use these often. The fast charging is also great in these headphones as mentioned in the table, exactly as it is. Here you can assume Soundcore Life Q30 is the better one for better convenience on account of the USB-C port.
Sound & Call Quality Comparison
| | | |
| --- | --- | --- |
| Product | Anker Soundcore Life Q20 | Anker Soundcore Life Q30 |
| Drivers size | 40mm | 40mm |
| Clarity | Good | Better |
| Loudness | Good | Better |
| Frequency | 16 Hz – 40 kHz | 16 Hz – 40 kHz |
| Bass Quality | Good | Better |
| Noise Cancellation | Yes | Yes |
| Ambient mode | Yes | Yes |
| Mic Quality | Good | Better |
| Overall | Good | Better |
After all the comparisons, If we talk about the Sound quality, here lies the main differences. Soundcore Life Q30 has a better overall sound output. The headphones are louder, clear, and with adequate bass and accuracy. Both headphones have the same frequency response, but Life Q30 is better in terms of accuracy resulting more clearer and sharp vocals and instrumental thumps and kicks. The highlighted part is the ANC and Ambient modes.
Although Soundcore Life Q20 has a well-balanced midrange, the bass range is overemphasized, which adds a lot of extra thumps and kicks. Hip-hop or EDM enthusiasts would certainly enjoy this. The Active Noise cancellation is up to the mark but fails in terms of high-frequency noises.
Price Comparison
| | | |
| --- | --- | --- |
| Product | Anker Soundcore Life Q20 | Anker Soundcore Life Q30 |
| Max. Price | $69.99 | $79.98 |
| Min. Price | $37.89 | $59.99 |
| Good to buy under | Under $60 | Under $80 |
| Current Price | | |
Related | Best Headphones under $50
Wrapping Up: Which is better Q20 or Q30?
The Anker Soundcore Life Q20 are decent headphones for multimedia and entry-level headphone for ANC. They're quite comfortable, while their ANC should be adequate as it won't block high frequencies. On the bright side, their long battery life should last even the longest of travel days, and they can be used passively if the battery does run dry. The headphones are explosive package under their price.
The Anker Soundcore Life Q30, on the other hand, is suitable for travel and commuting because of its stylish body. They have a fantastic noise-canceling feature that makes the rumble reduction even more effective. The headphone provides over 55 hours of continuous battery life, which is excellent for long travel days. They are comfy and relatively well-built. They're a tad heavy, though, which makes carrying them about more difficult.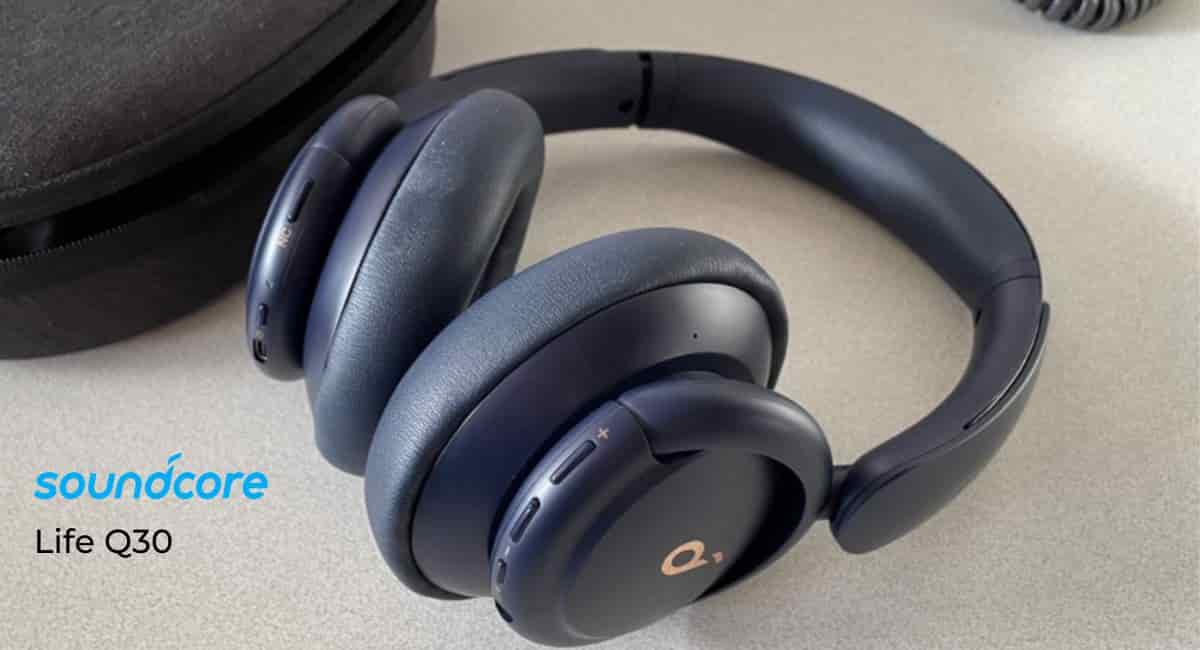 If we talk of value for money, Soundcore Life Q30 is worth expanding your budget!
| | |
| --- | --- |
| Anker Soundcore Life Q20 | Anker Soundcore Life Q30 |
| | |
We also did a comparison guide between Anker Soundcore Q10 and Anker Soundcore Q20 which you can check out now.
We have also covered the best Sennheiser headphones under $200 previously.
FAQs
Is water resistance an essential feature of headphones?
Usually, there are not many headphones with water resistance, so it is not that important.
Are these headphones good for gaming?
No, there will be latency issues so these are not for gaming.
What is the ambient mode?
Ambient mode filters the important noises and removes the unwanted noises out when you are in a conversation.