Are you searching for portable wireless speakers? With so many options on the market, it can be overwhelming to choose the best one that fits your budget. That's why we've curated a list of the Best Bluetooth Portable Speakers under 4000 in India that offer impressive sound quality, compact design, and long battery life.
Portable speakers have become a must-have accessory for music lovers who want to take their tunes on the go. Whether hosting a party or relaxing at home, a good portable speaker can enhance your audio experience. From budget-friendly options to high-end picks, our list covers a wide range of preferences and needs. Let's dive into our top picks for the best Bluetooth speakers under 4000 rupees.
5 Best Bluetooth Portable Speakers under 4000 in India in 2023 (4K Rs)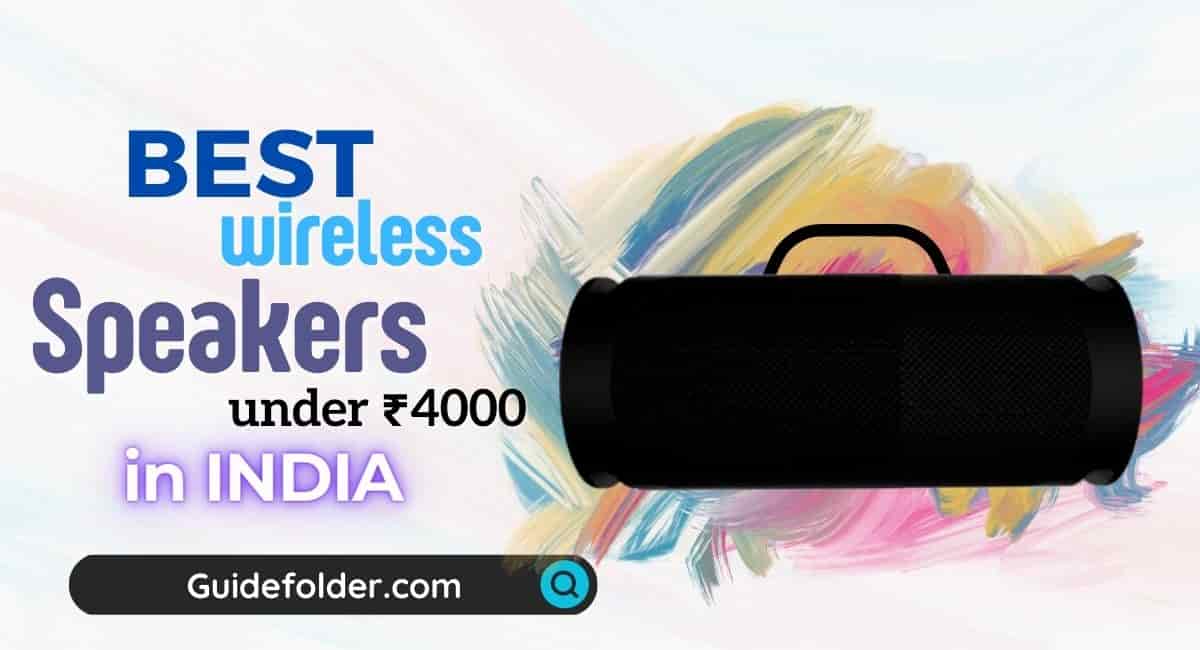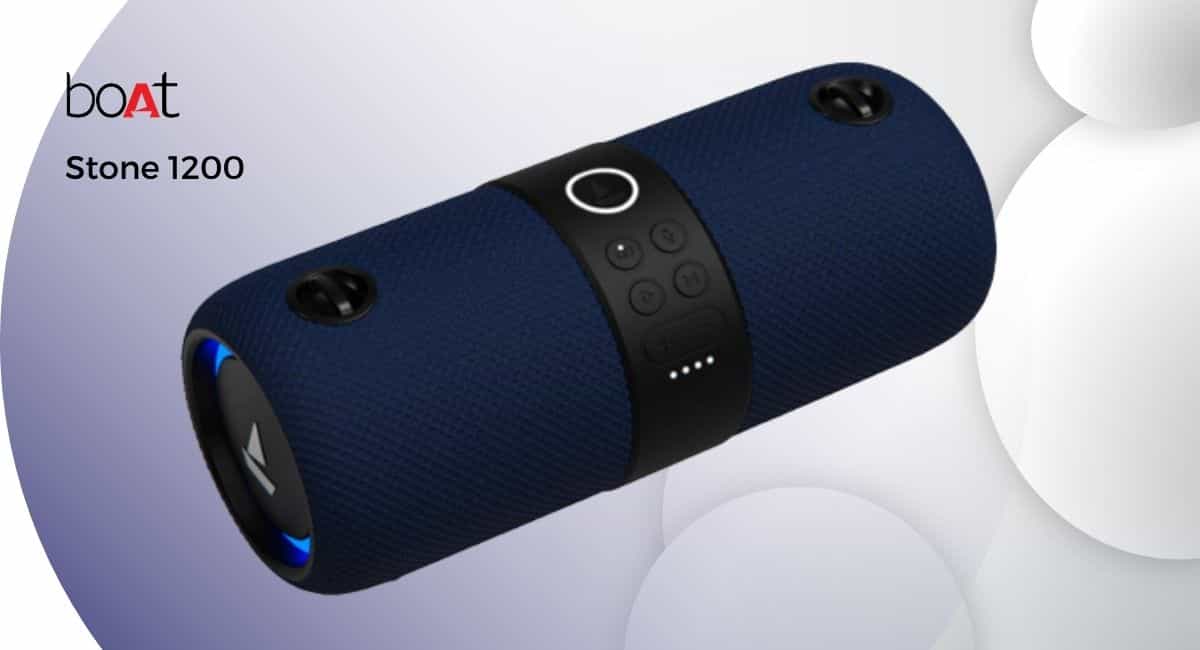 Build Quality: The boAt Stone 1200 Bluetooth Speaker is a cylindrical portable design with a built-in carrying strap and a rubber belt at the center. It has a power button for true wireless stereo, a dedicated voice support button, connectivity ports, inbuilt passive bass radiators, an RGB Led ring, and an IPX7 rating for water and dust. The speaker also has a dedicated USB port and an aux port for plugging in the pen drive. It is quite a sturdy and solid speaker in terms of build quality.
Sound Quality: boAt Stone 1200 Bluetooth Speaker performs well with no distortion and good sound quality, as it is usually where the vocals lie. It keeps the sound simple and pristine. The bass radiator gives us an outstanding bass with a smooth and thumpy tone, and even at full volume, the sound loudness is not the same. When the volume is increased beyond 60, the distortion can only be heard at a certain volume level.
Battery & Charging: The 3600mAh battery in the boAt Stone 1200 provides playing for 9 hours when the RGB lights are off and 7 hours when they are on. Depending on your sound setting and the sort of music you are playing, this playback duration will change. With mild to moderate use, the battery will typically last two days.
Specs Check
Price variations: The highest price ever seen for boAt Stone 1200 is INR 3999/- while the lowest price is INR 3249/-. The speaker is worth buying for/under INR 4000/-.
Check out the best boat portable speakers under a 2000 Rs budget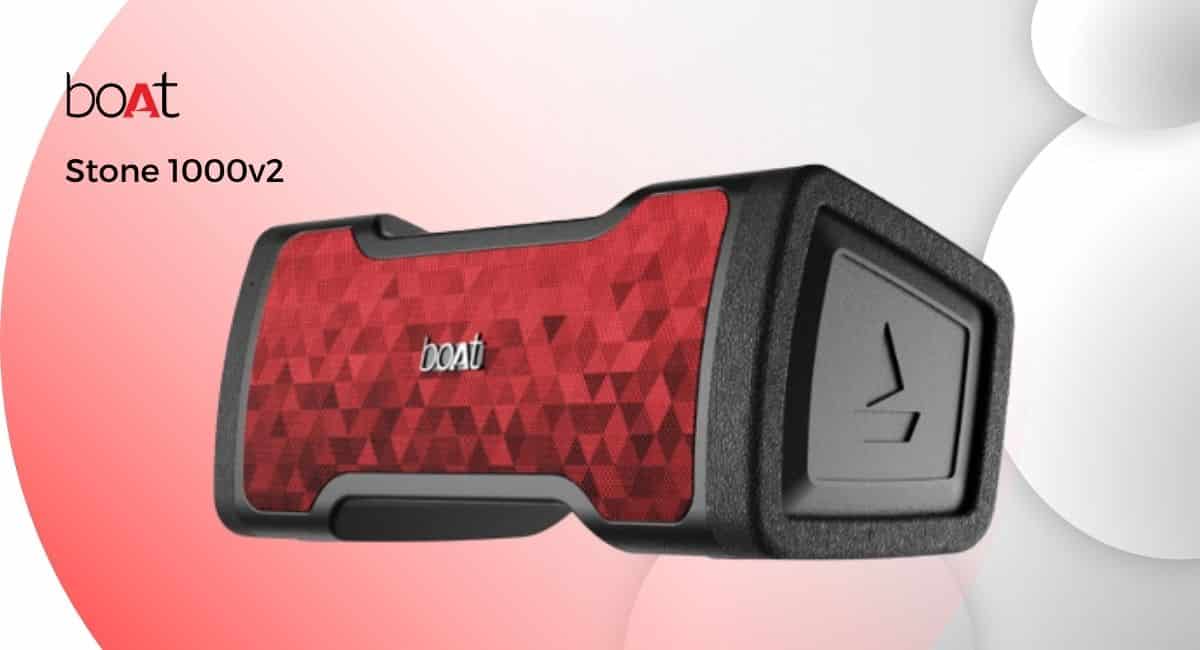 Build Quality: boAt stone 1000v2 is an upgraded version of stone 1000 possessing a similar shape with an attractive diamond print design on the front which adds beauty to the speaker. On the top, it also has a strap to carry. The build quality of the speaker is so strong. It is rated IPX5 for water resistance.
Sound Quality: The sound output of this speaker is treble-oriented. Trebles are way more clear than any boAt product in this speaker. The punchiness is also great and has put a boAt signature sound flavor that does not feel like blowing to the ears. The bass is not so high and can be average in this one. The overall sound output is perfect for Bollywood genres and sufficient for party songs also, but not for EDM.
Battery & Charging: boAt claims a battery backup of up to 8 hours and it is true only at 60% volume settings. Roughly according to adequate settings, you will get 6-7 hours of playback which is average considering other speakers in the range. Charging takes 2 hours at least.
Specs Check
Price variations: The highest price ever seen for boAt Stone 1000v2 is INR 3799/- while the lowest price is INR 2837/-. The speaker is worth buying for/under INR 3500/-.
Read this if you want the best Bluetooth portable speakers under 3000 budget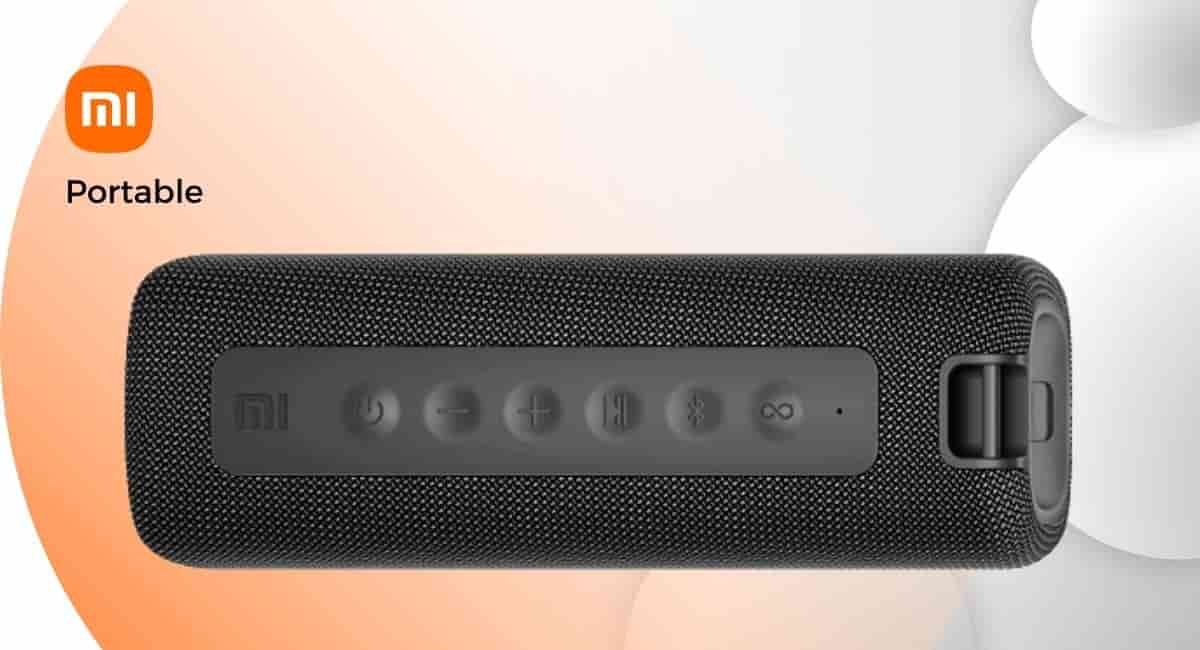 Build Quality: Mi Portable is a rectangular Bluetooth 5.0 speaker with rounded edges that has a rugged build and a good finish. While it is portable, its weight, which is close to 800gms, puts it on the heavier side. It has an IPX7 rating, which means it can withstand immersion in meters of water for up to 30 minutes. Although the fabric that covers the speaker has a tendency to collect some dust, cleaning it is not too difficult.
Sound Quality: Mi Portable speaker has a relatively powerful sound output and can get surprisingly loud for a mid-sized room. With balanced good vocal clarity and more than decent sharpness in the highs. The bass has a good presence here, and you can feel a bit of thump in the bass. You can also hear a good amount of detail in audio across various popular genres of music. All in all, the sound output is quite impressive for its size and asking price.
Battery & Charging: For a speaker of this size and output, battery life is respectable; the Mi Portable Bluetooth Speaker's battery provides about 9 to 10 hours of moderate volume playback on a single charge. The USB Type-C port is used for charging, and a 10W power adapter took about 3 hours to fully charge the speaker.
Specs Check
Price variations: The highest price ever seen for MI Portable is INR 3499/- while the lowest price is INR 2299/-. The speaker is worth buying for/under INR 3000/-.
Build Quality: The Soundcore Motion Q has got a minimalistic look with a nice fabric coverage, that feels premium and nice to the touch. It even floats on the water, so it's ideal for watersports as well, but it has got IPX7 to carry out all the worries. Moreover, you can not doubt the build quality and reliability if the brand is as premium as Soundcore.
Sound Quality: Soundcore Motion Q produces an omnidirectional sound and this omnidirectional sound works really well, you get a great audio experience from any angle you listen to the speaker. Luckily, the Motion Q exceeded my expectations too, as it has a decent sound that is much better than average.
Battery & Charging: This battery life is again short in this one too, a bit better than the 8 hours 40 minutes playtime of the Wonderboom at 70% volume, however, it is not outstanding, especially considering that the average can play 8 hours at maximum volume.
Specs Check
Price variations: Price variations: The highest price ever seen for Soundcore Motion Q is Rs 3799/- while the lowest price is Rs 2899/-. The speaker is worth buying for/under Rs 3200/-.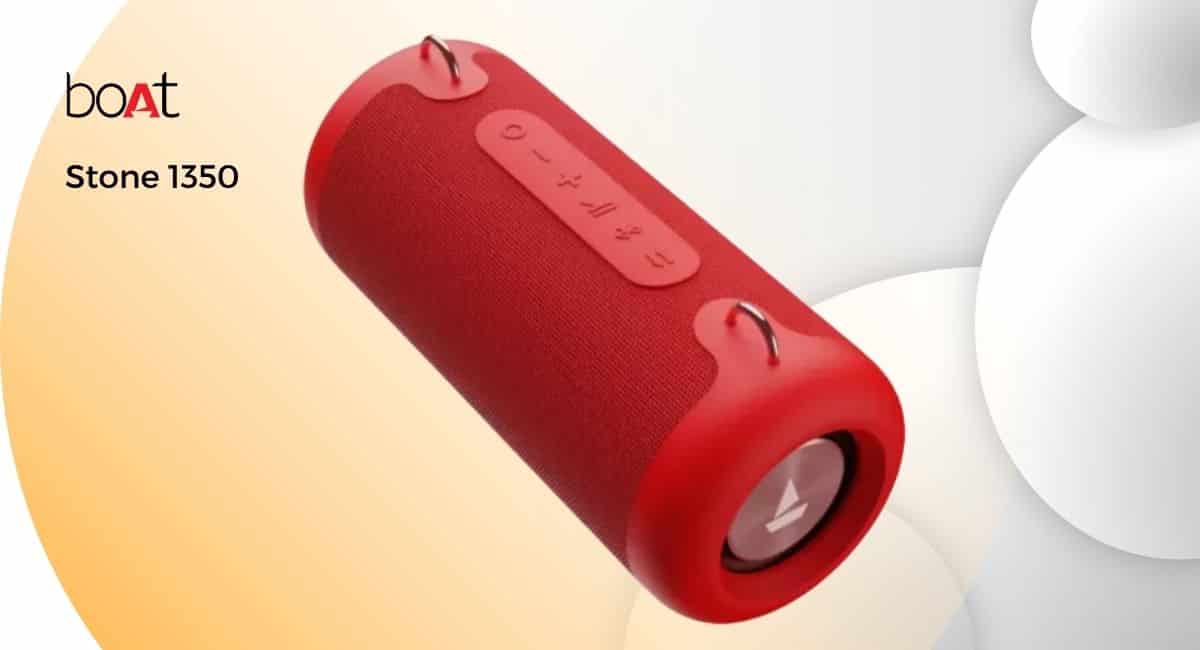 Build Quality: boAt Stone 1350 has a solid construction. This silicon model has a rubber coating to ensure that it can absorb shocks and resist the impact of sudden falls. The speaker grabs the attention with its ergonomic design. There are hooks on 2 sides of the cylindrical speaker. There are 4 buttons for power, play/pause option, and volume control. It is also secured with IPX6 rated shield.
Sound Quality: boAt Stone 1350 is a 30W RMS speaker, and it can produce sharp and rich sound with built-in passive radiators. The mids and highs are separated and maintain a proper frequency level. The punchy bass is also unmistakable with this speaker. It is better to place your speaker on the ground to feel the bass better. Although the speaker has a barrel-like shape, it can give you 360 degrees sound.
Battery & Charging: boAt Stone 1350 ensures continuous and uninterrupted listening for 5 hours. But, this claim persists when you have set the volume at about 60%. The higher volume can reduce the playback time. It stores a 4000mAh lithium battery, which is more powerful than what you can find in its predecessors. Usually, it is satisfactory at 60% volumes and charging takes time around 2 hours.
Specs Check
Price variations: The highest price ever seen for boAt Stone 1350 is INR 4999/- while the lowest price is INR 4499/-. The speaker is worth buying for/under INR 5000/-.
Final Verdict
If you are looking for a portable speaker with Average battery life, loud, clear, punchy, and immersive sound, and that too with stylish and solid build quality, the best option you can go with is boAt stone 1200.
The next option is boAt Stone 1000v2 a little affordable but still a beast in terms of delivery. It has little lesser, close to equal everything. Although it does not have RGB lights in its body it is still beautiful without RGB. The sound quality is top-notch. The only difference is the soundstage, which is not 360-degree.
However, if you are looking for a little longer battery life, MI Portable could be an option. It is the longest in terms of battery life and lacks nothing. If you want a Stereo system, then you shall skip this one as this one can not be connected to its twin for stereo sound effects likewise boAt speakers.
In terms of portability and the rest of all the features, the Soundcore Motion Q is the best option with everything excellent. Be It sound quality, Build quality, portability, or whatever. Soundcore is the champion in terms of products. The highlighting factor is its small size and loud sound.
People Also Ask
Is Bluetooth v5.0 too old now?
Considering the newest version 5.3, Bluetooth v5.0 does the job perfectly, so it is not old.
Can we use these speakers with a PC/Laptop?
Yes, the speakers can be connected to any Bluetooth-compatible device.
What is Dual Equalizer mode?
The Dual Equalizer mode provides a different set of audio settings to provide different Sound quality and experiences.
How to claim the warranty for wireless speakers?
First, register your device on the brand's website. Dial the phone number provided on the warranty card/ website, and follow the instructions given by the customer support team.
We have also covered the best Bluetooth portable speakers under 8000, under 5000, and under 15,000 budget in the previous post.