It comes to your mind when you plan to buy one soundbar or speakers to improve the audio quality such as bass, and loudness for tv, party, movies, or other entertainment purposes. And then the question comes into our "Is a soundbar better than speakers".
It depends on your priorities what to buy or what not. We have discussed all things about the soundbar and speakers here in this detailed guide.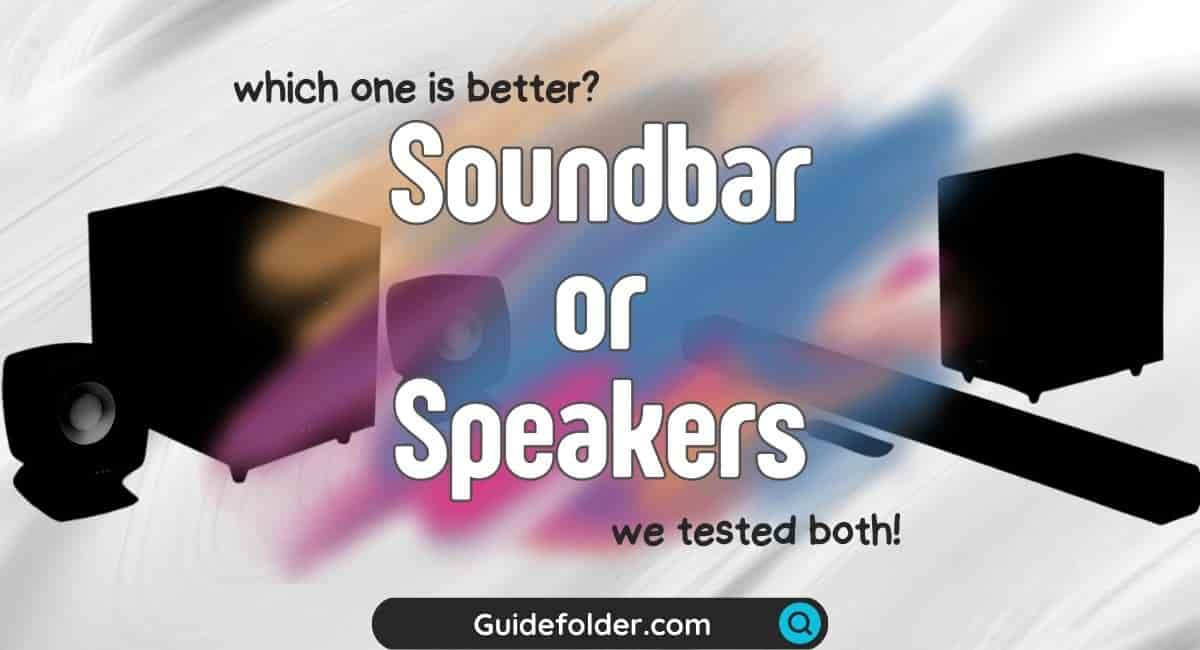 Are soundbars worth buying?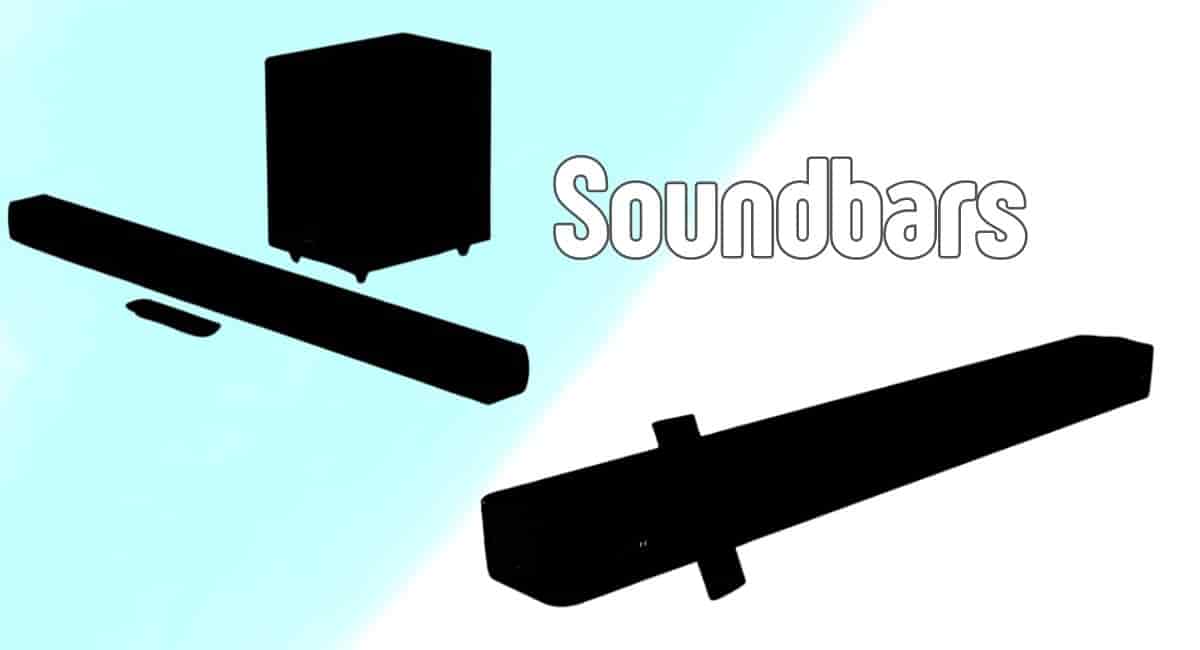 Yes, the soundbar is worth buying if you want to make your TV or movie-watching experience better at home because it needs little space to occupy.
Soundbars typically have a long, narrow shape that is designed to sit horizontally in front of your TV or mount onto a wall. They are usually rectangular or slightly curved and come in different sizes to fit different TV models.
Some soundbars may have a more cylindrical shape, but the overall shape and design are intended to provide a sleek and space-saving.
You do not need to manage the wire because most soundbar comes with a wireless subwoofer which can be managed easily by using the remote control.
Check these for the best soundbar under a 10,000 and 15,000 Rs budget
Pros of Soundbar
Here are some pros to consider when deciding whether a soundbar is right for you:
Audio Quality: If you're looking for better audio quality in comparison to your TV, a soundbar can make a difference. Many soundbars offer improved sound quality and clarity, as well as options for adjusting bass and treble levels to your liking.
Space-saving design: If you have limited space in your home or don't want to deal with a complicated surround sound system, a soundbar is a great alternative. They are usually compact and easy to set up, requiring minimal cables and hardware.
Compatibility: Many soundbars come with a range of features and options, including Bluetooth connectivity, adjustable bass, and treble levels, and the ability to stream music from your phone or other devices. This makes them a versatile addition to your home entertainment system.
Easy to set up: Soundbars are usually easy to set up and require minimal cables and hardware. They can be a great alternative to a complicated surround sound system, which may require more space and setup time.
Budget: Soundbars can vary widely in price, from budget options under 3000 to high-end models costing thousands of rupees. If you're on a tight budget, a lower-priced soundbar can still offer a significant improvement over your TV's built-in speakers.
Cons of Soundbar
Limited bass response & surround sound: Some soundbars may not have as strong of bass response and surround sound as a full home theater system with multiple speakers.
Difficult to Upgrade System: If we want to add extra speakers to the soundbar to improve the sound, it was very difficult to manage for a normal person who doesn't know much about the connectivity of the soundbar.
Are soundbars worth buying? Overall, if you're looking for a simple and effective way to improve your TV or movie-watching experience, a soundbar can definitely be worth buying. Just make sure to do your research and choose a model that fits your needs and budget.
Are speakers worth buying?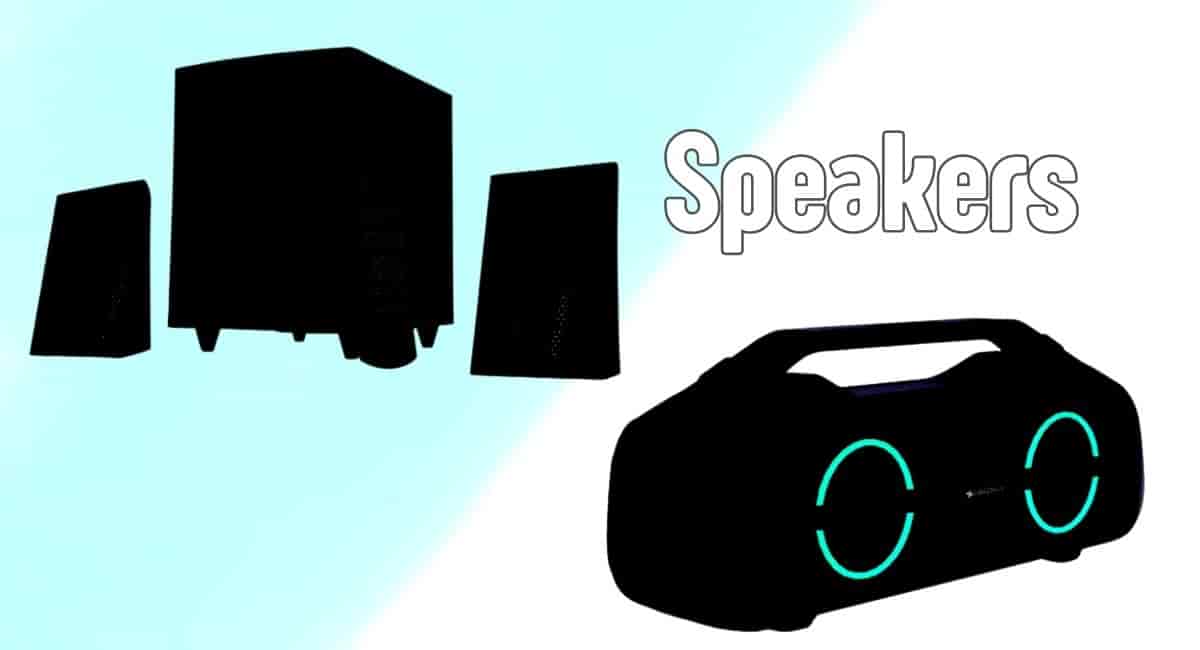 Speakers are worth buying when you want more bass and loudness in comparison to the soundbar. You can enhance the audio quality experience as much as movie theaters have.
But they need large space to occupy because the speakers are larger than the soundbar and have a lot of wires to manage.
In comparison to soundbars, home theater speakers have more bass, more loudness, and more surround sound which can make us feel as if we sit in a movie theater.
You might like these best home theater system speakers under 10,000 and Best Dual Tower Speakers under 15000
Pros of Speakers
There are pros that you can consider while buying home theaters.
Greater sound quality: A high-quality speaker system such as a home theater speakers system can provide superior sound quality compared to a soundbar or built-in TV speakers. With separate speakers for different frequency ranges, such as midrange and high frequencies, you can achieve a more detailed and balanced sound.
Better surround sound: A full speaker system, with multiple speakers placed strategically around the room, can provide a more immersive surround sound experience compared to a soundbar. This is especially true for larger rooms.
More customization: With a speaker system, you have more control over the sound and can fine-tune the EQ settings to your liking. You can also mix and match different speaker brands and models to achieve the perfect setup for your preferences and budget.
Better for music listening: If you're a music lover, a speaker system may be a better choice than a soundbar. A high-quality speaker system can provide a more accurate and detailed sound, making it ideal for music playback.
Longer lifespan: With proper care and maintenance, a good set of speakers can last for many years, providing long-term value for your investment.
Cons of Speakers
Higher cost: A full speaker system can be more expensive than a soundbar or built-in TV speakers. The cost can increase further if you opt for high-end, premium speaker brands.
More complex setup: Setting up a full speaker system can be more challenging than a soundbar. You may need to run speaker cables and wires throughout the room, which can be time-consuming and may require professional installation.
Space requirements: A full speaker system can take up more space than a soundbar or built-in TV speakers. This can be a challenge in smaller rooms or apartments where space is limited.
Soundbar vs Speakers which is better?
Whether a soundbar or a speaker system is better for you depends on your needs and preferences.
If you want the best sound quality and have space and budget for a speaker system, it may be the better option.
But if you want a more affordable and space-saving option, a soundbar might be the right choice. It's important to check for compatibility before making a purchase.
Some of the situations which describe the both best in the respective situation. Here are some situations which you are considering while buying one over another.
Soundbar vs Home Theater For TV
This is the most asked query which is better for a TV soundbar or a home theater speaker? There is no specific reason behind this that which one is better.
It depends on the situation if you have a larger room, a big amount, and want a better sound with bass, loudness, and stronger surround sound then you can choose home theater system speakers.
On the other hand, with a limited budget and no space to occupy a home theater system, you can consider buying a soundbar and yes it is not as costly as a home theater speakers system.
Is a soundbar better than speakers for the living room?
Both soundbar and Speakers can be good for the living room. If you have a tight budget, a small living room, and don't want to manage lots of wires then you should choose a soundbar.
On the other hand, if you have the budget and a larger room and want a better sound quality in comparison to the soundbar then you should choose a home theater speakers system.
Is Soundbar Better than Home Theatre Speaker System?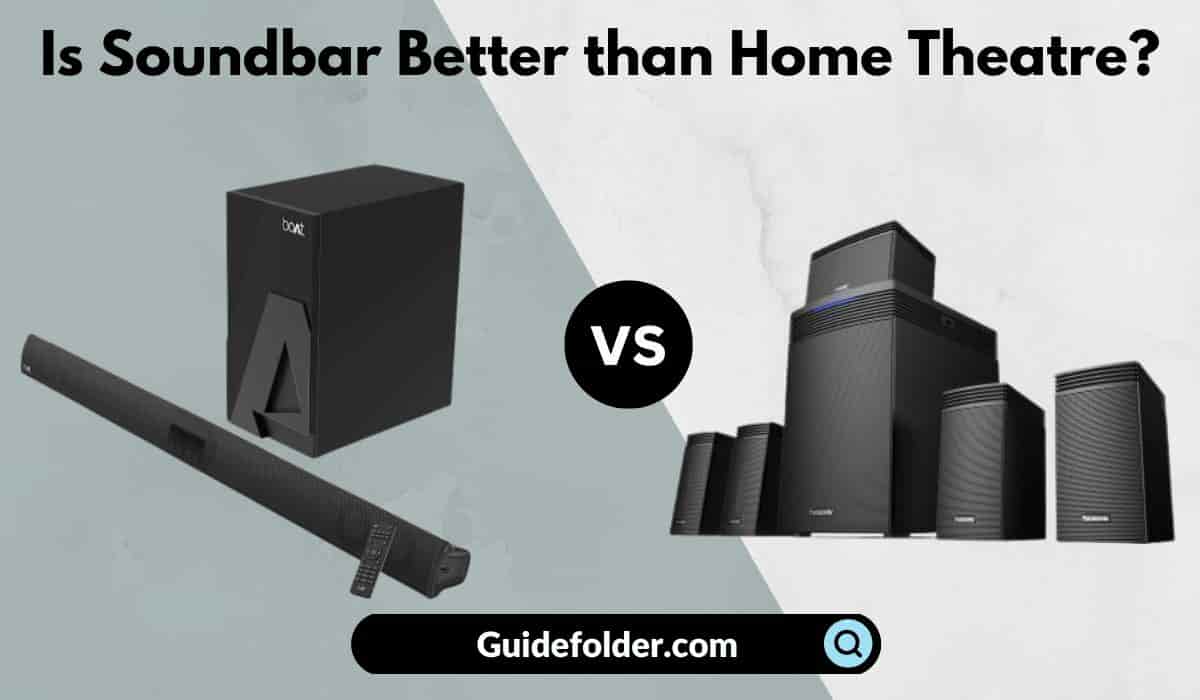 The soundbar is easy to set up if you take it outdoors for a party because almost all soundbars are Bluetooth supported for setting up without hassling with the wires.
While on the other hand, Home Theatre Speaker offers stronger bass with more loudness for boom boom party. It should be first priority for party purposes.
Both are good for their respective purposes if you love doing hardcore parties, you should go for a home theater system but if you have to increase the sound quality of your tv or want portability then you should consider a soundbar.
Soundbar vs Speakers for Music
From music's point of view, it depends from person to person. If you love boom boom bass with high loudness, you should definitely choose a home theater speakers system and yes, you have to be ready to pay a big amount in comparison to the soundbar.
But if you have a tight budget, you can choose a soundbar too.
How can I make my soundbar louder?
In case, if you don't want to buy a new sound system because you have already a soundbar and want to make it better by doing something that works. Here are some steps that you can follow and may get your desired result.
Add a subwoofer: Some of the soundbars don't have a built-in subwoofer which can impact the overall sound. By adding a separate subwoofer, you can enhance the sound quality.
Use an HDMI connection: If your TV supports an HDMI cable, use it to connect your TV and soundbar. This can provide better audio quality and eliminate the need for multiple cables.
Customize the EQ Settings: Most of the soundbars have already preset EQ mode which you can activate by just pressing the remote control button. Additionally, some of the soundbars have EQ mode customization settings that you can set to your liking such adjust the bass and treble to fine-tune the sound.
Add extra speaker: Some soundbars can be connected to other speakers in your home for multiroom audio playback. This can be a great way to enhance the overall audio experience in your home.
Wrapping Up
Is a Soundbar Better than Speakers? Which is best for you? These questions have no specific reason. We have already mentioned above that it all depends on the situation, purpose, priorities, and budget too. After considering all these things, anyone can choose the best suit option for themselves.
Overall, soundbars can be a great buy for those who want to improve their audio quality without the hassle of a complicated audio setup. They offer improved sound quality, easy setup, space-saving design, and versatile features, and not much expensive in comparison to a home theater speakers system.
While speakers can provide superior sound quality, better surround sound, more customization options, and a longer lifespan compared to a soundbar. However, they may require more space, and setup time, and be expensive compared to a soundbar.
We have tested and listed some of the best soundbar budget category-wise that you can check out.
If you want to explore the best portable Bluetooth speaker then you can check these out. (Below)
We hope you got your answer to the query "Is a Soundbar Better than Speakers". If you have still any doubts, feel free to comment down your thoughts in the comment section below.