You might be irritated by the iClever headphones not pairing issue. But don't worry, we will guide you in every possible way to fix it in this detailed guide.
It is one of the common issues which you face anytime while using headphones. If you are finding a solution for this then this is the right guide for you to fix your iClever Headphone not Pairing Issue.
How should you put iClever headphones in Pairing Mode?
There is no rocket science behind pairing any headphones. There straightforward process for pairing the headphones with any media device.
Take out your iClever Headphones from the box and turn on the headphones by pressing the Power button for 1 second in case of the headphones turn off.
Now the headphones will enter pairing mode.
Turn on the Bluetooth of your smartphone or computer. Then select
"iClever Headphones" in the Bluetooth Pairing List by going to settings.
How do you know the status of iClever headphones?
You can know the headphone's status by listening to Voice Prompt.
| | |
| --- | --- |
| Status | Voice Prompt |
| Power On | Power on |
| Power O | Power o |
| Pairing | Pairing |
| Successful Pairing | Connected |
| Disconnection | Disconnected |
| Low Power | Battery Low |
How to Fix the iClever Headphones Not Pairing?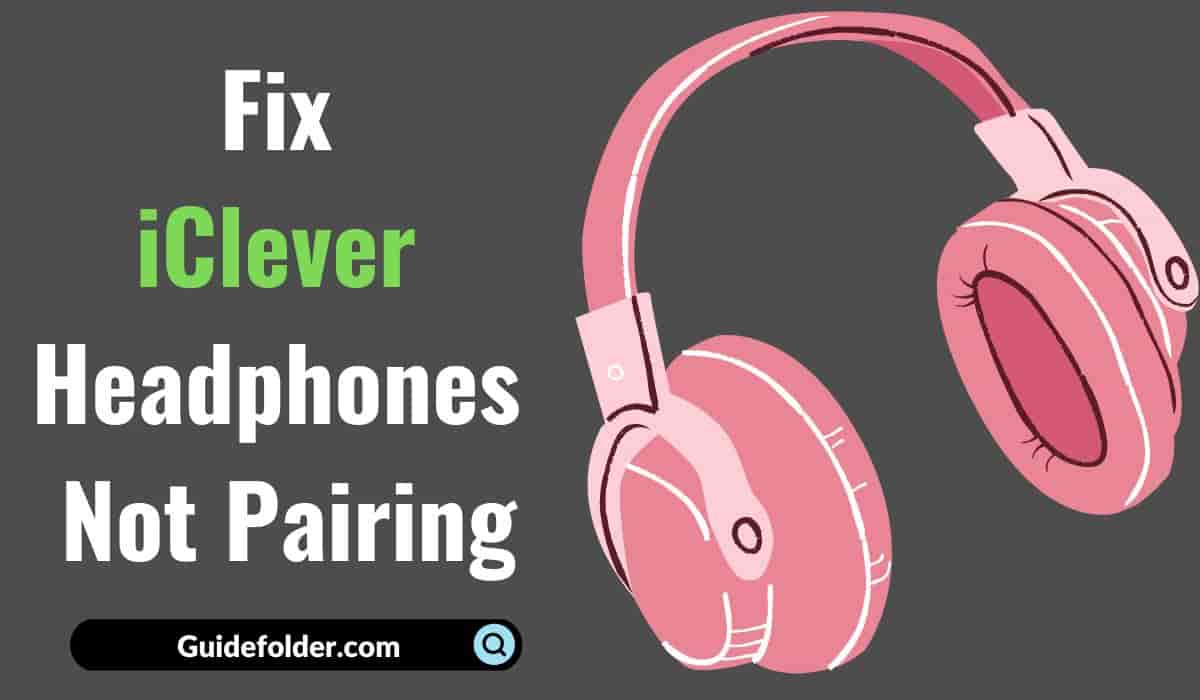 To fix and troubleshoot headphones, there are ways of fixing that can be followed and implemented throughout the journey of fixing headphones.
We have discussed the all ways here that you can also follow to ix your headphones.
Headphones must have Enough Charging
Usually, this happened when the headphones do not have enough charging. If headphones have LED battery life indicators then it is easy to check battery charging but in case, the headphones do not have LED battery life indicators then it is a little bit hard to find the battery percentage.
You can also check the headphone's battery charging percentage by going to the Bluetooth setting and you will see their battery percentage with the headphones' Bluetooth name.
Make sure that the headphone must have enough charging so that the headphones work smoothly when you pair the with a media device be it a smartphone or a computer.
If the headphones don't have enough charging, you should charge them fully and check if there is still no charging issue going on. If the issue is still there move on to the next way to fix this issue.
Turn Off and On Bluetooth
You should once try this by turning o your Bluetooth of both devices (media device & headphones) and now turn them back on.
After turning them on, try to pair iClever Headphones to your smartphone or computer whatever you want to pair with.
It might work for you if it works then congratulations. If it does not work for you then you should try the next way of fixing the not charging issue.
Check Charging Component
The charging components include a charging port, charging cable, and adaptor. You should look at all three components to verify if it is in working condition or if is there any fault with the charging components.
If there is any fault then you must replace that so that headphone comes under working conditions and the ix for not charging issue is resolved.
If there is no issue with charging components, you can go ahead with the next way of fixing it.
Remove Dust from Charging Point
Sometimes, you don't look at the dust at the charging point and you ignore or might not notice these little things. The charging point includes a charging port, charging cable, and adaptor port.
And you don't know that the issue can be caused by dust placed on the charging point. So if you want your headphones to work properly then you should clean the charging point with tissue paper or any soft cloth.
If it still does not resolve your issue then try the next way to resolve your issue.
Both devices should be compatible
You know how the world of technology changes around us. So the newer models of devices have a newer version of Bluetooth and everything. The newer device usually uses Bluetooth version 5.0, 5.1, 5.2, 5.3, or more updated versions.
That's why it is very important to make sure both devices are compatible with each other to avoid bad connections while pairing headphones.
Reset iClever Headphones
This is the perfect way of resolving any issue going on with any type of headphones. The reset function returns the headphones to the initial configuration as you bought them.
But the process for resetting the headphones depends on the headphones model. Every headphone might have a different process for resetting that you may find in their user manual comes with box package content when you buy.
Some of the iClever headphones reset processes have been given below here that you can follow. And to know the reset process for more headphones, you can visit here.
How to reset iClever BTH12 Kids Headphones?
Here you will know how to reset the iClever BHT12 kids headphones in a similar way or different way, you can reset the other headphones by knowing the process of resetting through their user manual. For example, we have guided you to reset the iClever BTH12 headphones here.
For iClever BTH12 Headphone
Press and hold the "+" and "-" button simultaneously for 4 seconds in power on the state to clear the pairing list. Now the headphones will automatically enter the pairing mode and you can connect.
You can also reset the other headphones by reading their user manual to know the reset process.
iClever HS19
iClever HS01
iClever BTH13
iClever BTH15
iClever BTH16
iClever BTH19
iClever HS14
iClever HS20
iClever HS21
iClever HS22
iClever HS23
What to do if my iClever Headphone is still not pairing?
In the end, if the iClever Headphone is still not working or not pairing then you should definitely contact to iClever official by visiting their service or sending your inquiry through email.
Yes, this is the last option that you can follow at the end of this journey of fixing your iClever Headphones not pairing issue.
Wrapping Up
This was a detailed guide on how to ix iClever headphones not pair in many ways. Even you can follow the same way of fixing other headphones but the process may be different.
I hope you liked this guide. If you liked this guide then do comment below in the comment section.
We have covered the best headphones under $50 and under $100 budget previously, if you find them useful then you can check out that.