Are you looking to buy some Tranya earbuds or earphones? If you are, it is always great to check what the brand is like. How is the post-sales service and how long usually the products last? How often do people buy Tranya Earbuds? Overall a complete discussion on, Is Tranya a good brand? If you want to know the short answer, it is a wonderful and worth spending brand.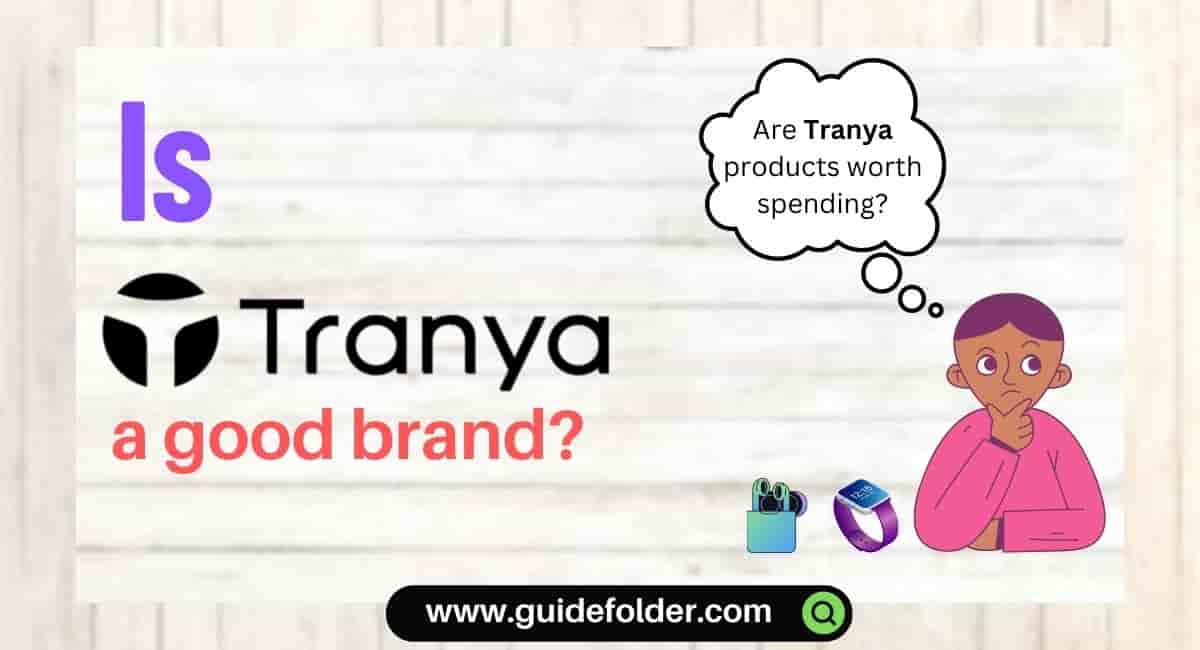 About Tranya Brand
Established in 2016, Tranya has grown rapidly. Their founder is a Music enthusiast and an audio engineer, pretty common among small brands. They reject the myth that incredible sounds are only priced at astronomical figures.
Tranya is a new kid in the US lifestyle accessories market. it focuses on entry-level and budget-based earphones and earbuds. Lots of users have bought Tranya products and they found them helpful enough. Currently, they deal with Smartwatches, earbuds, earphones, and headphones in some regions.
Tranya's team is formed & driven by a group of passionate music lovers & acoustic engineers committed to delivering solutions using the latest technology to improve the sound quality in a budget-friendly manner.
Is Tranya a good earphone brand?
How good is a brand towards its specific types of products is decided by user ratings and numbers. And these two depend on how is the quality, variety, and features of the products.
If we look at the quality Tranya packs into their audio devices, we see a pretty common and decent level of quality here. These can not be compared to premium brands line SONY and Sennheiser, of course, this can not compete with them. It is somewhere close to TOZO.
If we discuss features, It is behind TOZO also. TOZO has brought Active Noise Cancellation to their earphones. For design, you may find it attractive. The products usually have average kind of quality and features.
The variety of products for different uses is not satisfactory. They have earbuds in the majority, headphones in minority, and smartwatches not in optimum numbers. They lack sufficient products. So, Tranya is not expanded yet like a popular brand. But some of its products are useful and popular too.
How long is Tranya aftersales?
For aftersales, Tranya has not provided any customer service helpline numbers. They have provided emails for customer service and have not given a proper commitment if they will connect with you within 24 hours.
Currently, we have not found any earbuds faulty and so haven't felt any need to connect to their aftersales team. But if any support center or commercial store is near to you, you may choose to opt for these.
Are Tranya earbuds worth buying?
Tranya has very limited products in terms of variety, quality, features, and users. However, they are very efficient in terms of customer support and after-sales service. In terms of quality and features, they are limited and decent.
If you are planning to buy Tranya earbuds and have one pair in your mind, It is better to compare a few more in the same price range. You might get better features and variations in their quality.
The value might be also even greater in more popular brands. However, if you have a pair in your mind, and can negotiate the quality and features, you can go with these as they are pretty responsive in terms of after-sales service.
What is its origin and where is it so popular?
Tranya is a US-based audio brand. They are successfully operating in the US, HK, and China. Their channels reach 50+ countries and regions, including the US, Canada, Mexico, Brazil, UK, Germany, Italy, Spain, Australia, Japan, Singapore, Malaysia, Indonesia, Vietnam, and more.
Which earbuds are worth buying?
A few recommended pairs of earbuds include- Tranya T10 Pro, Tranya T20, Tranya T30, and Tranya F4. For sports, you can opt Tranya X5 or X2.
Tranya makes so pretty designs for sure. But they lack in terms of the number of users. However, if you find any Tranya product and see their ratings, You will not find any product with less than 4-star ratings. This indicates the quality of the product and the trust of people.
The short answer is if you are looking for earbud pair, You can pick according to your preference of design, features, and budget. The quality is value for money for sure, even though it may lack some features like ANC and battery life indicators. These are of great value.
Wrapping Up
The Tranya earphones have good bass with strong definition and good detail. They are making unexpectedly high-quality earphones at rock-bottom pricing. It also checks o the boxes for earbud features.
When determining if a specific brand or product is best for you, we advise keeping in mind your own research as well as your needs and tastes. If you try to purchase during the sale, you might be able to acquire it for 50% off.
We have covered the best earbuds under the $50 budget for you after rigorous testing.
If you are looking for cheap earbuds then you should click here.Also, check this Is Srhythm a good brand? Are Srhythm headphones worth buying?