Do you want to buy Srhythm headphones? It is excellent to know about the brand before you buy. Headphones are available with features and quality in the market but are expensive too. In such cases, if you find something that suits your budget and is filled with value. Questions like Is Srhythm a good brand? Are Srhythm headphones worth buying? might be teasing you.
The regular features of headphones may include, Sharp and loud sound, Comfortable and pleasing design. Long battery life, Wireless connectivity, and in some cases, Active Noise cancellation if it is a little high in price.
Srhythm headphones come equipped with all these. So it is worth giving it a try, but before that, we will look at the brand profile.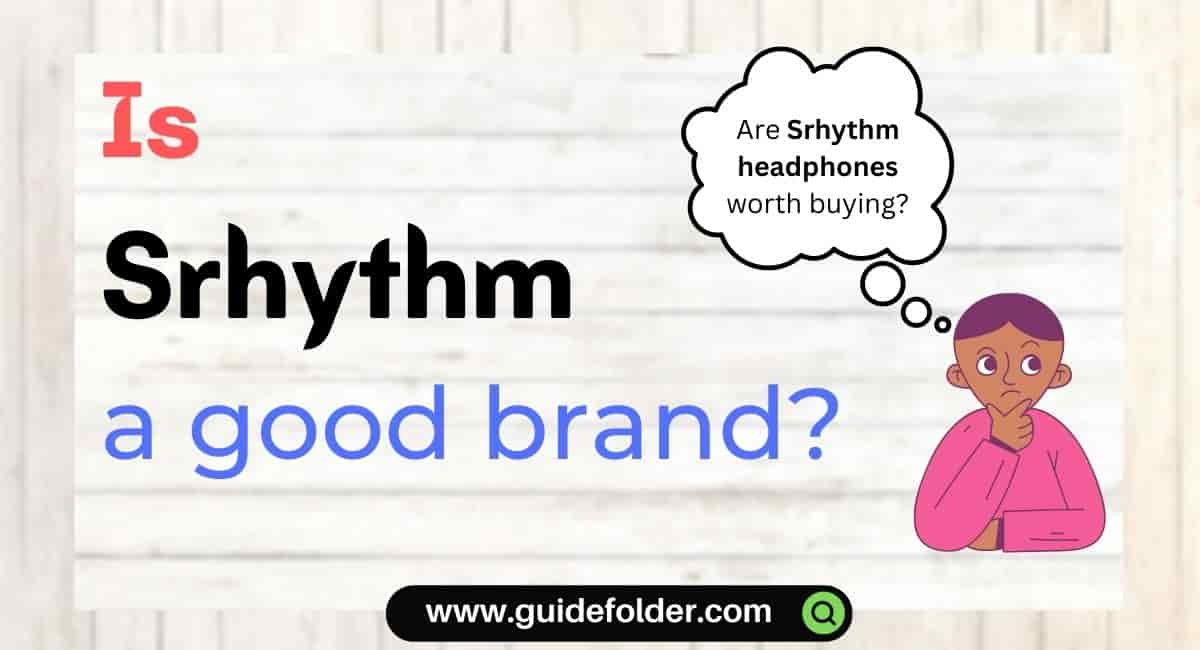 About Srhythm
Srhythm kept developing the ANC technology for other audio brands for years, but they were not actually pleased with the overall product that others used to launch. So they entered the Audio market with ANC headphones.
Currently, ANC is common in the majority of their headphones. They started by creating products that allow you to enjoy what life has to offer without pushing what your wallet can offer.
Is Srhythm a good headphone brand?
As far as their progress has been observed over years, Srhythm is not a much popular brand but their products are being sold and got positive reviews. But to be honest, there aren't many users. Only 3 headphones Srhythm NC25, Srhythm NC35, and Srhythm NC75 Pro have a significant user base. However, none of the headphones are below 4-star ratings. This shows the quality of the products and the expectations they are matching with the users.
How long is Srhythm aftersales?
To ensure that the quality meets the standards of our seasoned standards Srhythm products have undergone extensive testing.
Each item includes a 12-18 month guarantee, technical assistance, and 24-hour online customer care. Thus, you can relax and take pleasure in your new headphones.
Are Srhythm headphones worth buying?
Till now we have tested only 2 headphones, but as seen on amazon, all the headphones have above 4-star ratings. This shows they are good at fetching the expectations of the customer and delivering quality with features at low prices.
Every audio brand glorifies its sound quality Srhythm. But they believe on showcase some unique and exclusive features like Gaming mode, Active Noise Cancellation, Long battery life, and a Hi-Fi mic. Although some might feel general features, users have blessed these headphones with 4-star ratings.
To mention, Gaming mode in wireless headphones is very exclusive and ANC below $100 is also exclusive. However, they lack some beauty in their design, but they add some durable foam to their earpads.
The answer to the question is, Yes! these are worth buying if available. Because they provide a warranty of at least 12 months and 24×7 customer support, and Exclusive features. Checking sound quality reviews before buying will help you more in your decision.
Related | Best Headphones Under $50
What is its origin and where is it so popular?
The origin country of Srhythm is the USA. And it is popular in the USA only, There are chances of growth as the love shown by users through their reviews and ratings. But currently, 3 headphones are highly popular.
Which headphones should you buy?
To mention, all the headphones available on amazon, have NC in their name. Which indicates Noise Cancellation. Active Noise Cancellations have never been so affordable up to this much as in Srhythm NC15. If you doubt the quality, remember the 4 stars and 1-year warranty.
The next headphone as your next option could be either Srhythm NC25 or Srhythm NC35, as most of the users have trusted these and given favor 4.5-star ratings. Of course, it will not disappoint you in quality and features.
And if you want some better designs, Srhythm NC75 Pro and Srhythm NC85 will help.
Check out the comparison on Srhythm NC25 vs NC35 which is better?
Wrapping Up
Srhythm is a growing headphones brand in the USA and you can see reviews on amazon of their products. If you want to buy cheap headphones for beginner and normal use then you can consider buying them for yourself.
If you want headphones with impressive sound quality, you should check the best Sennheiser headphones under the $200 budget which we have covered in the previous guide.