Did your Srhythm headphone just get into trouble? We are pretty sure you might be worrying and kept searching for articles on Srhythm NC25 not working, how can I fix my old headphone? But if you are, we hope You will find this article helpful. Else congrats on a new one!
In this article, we have discussed the common issues and their solutions so you can fix the small problems on your own. Of course, it is always better to give yourself at least a try before visiting a service center.
Some common issues you might be facing
Here are some common issues.
Not connecting
Not charging
Disconnects suddenly
Blinking connectivity
Not turning on
The above issues are most common in terms of wireless headphones, Although it is very rare for Srhythm headphones, These are also meant to be resolved easily.
5 ways to fix Srhythm NC25 not working
Here are all the possible tips you can opt for according to your problem. If still your headphones are not fixed and your problem exists, kindly let us know about the problem in the comment section.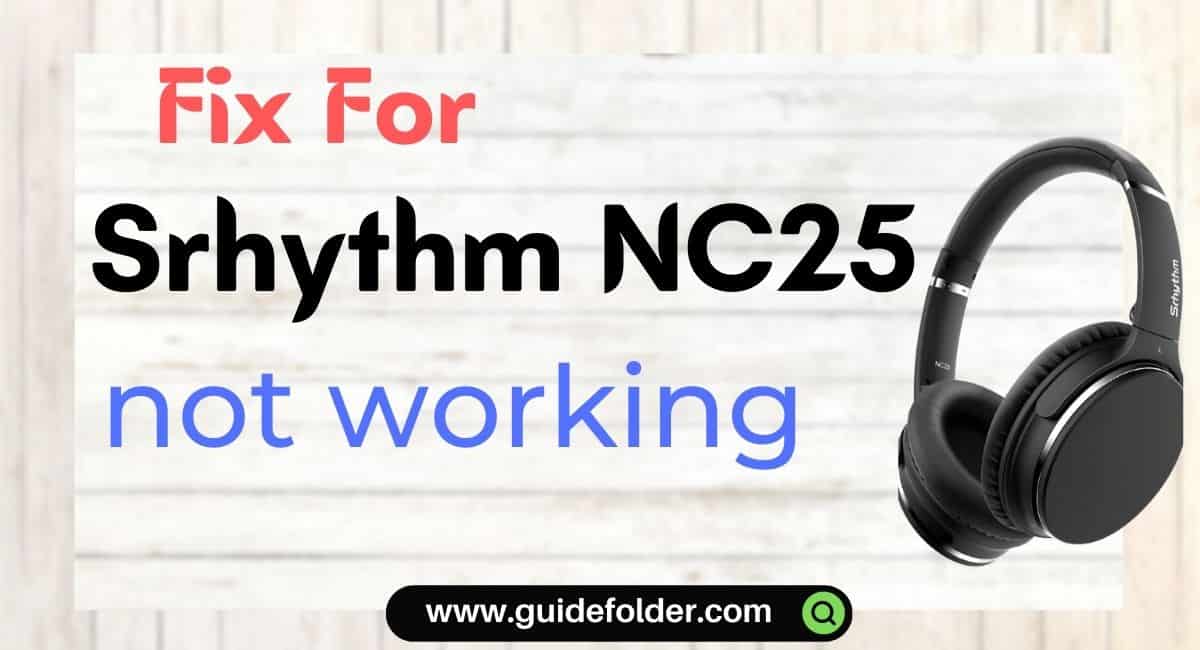 Method 1: Forget the headphones from your device
Most of the time, it happens when your headphones are already paired with another device. However, in these headphones, Dual pairing is enabled so it shall not be an issue.
Try rebooting the headphones and forgetting the headphone Bluetooth from the device's Bluetooth list and reconnecting. It shall connect again as a fresh new device.
Method 2: Clean the charging port and pins
Take a look at the charging port and the pin of the cable. Is there any unwanted dust accumulated? This could be a quite possible reason for not charging your Srhythm NC25 headphone.
If any dust or rust is found, Kindly clean it and try again. If there is any dust, you need to clean both of them by using a brush. Now you can test if your headphone charges again like they used to. If not then this needs to be replaced.
Method 3: Keep an adequate distance and clear path
I use my headphones with my desktop, which is not Bluetooth-enabled. I separately bought a Bluetooth adapter to connect. Now the sound blinks even from 1 meter if you place something in between the direct path of transmission. To avoid the problem, just clear the path and your problem will be fixed.
Method 4: Try to minimize the running programs
Sometimes it happens like you are listening to music and the sound blinks for seconds and keeps blinking for a few moments. This is because the connection and continuation of data transfer are not smooth due to multiple programs running in the source device at the same time. Try to minimize the running programs so the processor of the device could handle the music streaming app alone.
Method 5: Reset and Reboot
Well, some problems are serious ones! That has to be fixed by professionals. However, it is always better to try once on your own. You shall probably reset the headphones. Here is how to reset the headphones.
How to reset Srhythm NC25?
Insert a 3.5mm audio cable and connect it to a device, now remove it. The headphone will be automatically reset when you remove the cable. The headphones also get reset automatically when you charge them through a charging cable. The simplest way yet.
Wrapping up
If you face such issues, and the headphone is under warranty, There is nothing wrong with visiting a service center as it is ideal. However, the problem arises when it is out of warranty period. All the problem mentioned above has been discussed and highlighted by users of Srhythm NC25 headphone in our community. And once we recommended them, they found these steps helpful.
You can also refer to the Srhythm NC25 user manual guide.
If you also have any such problem and got fixed, Kindly let us know your thoughts below in the comment section.
We did a comparison guide between Srhythm NC25 and NC35 previously. We have also covered the best headphones under $100 which you should check out.
People Also Ask
Why can't headphones turn on?
Kindly double-checks the battery status of your headphone.
Can I replace the battery in the headphone?
No, The headphone uses a built-in non-detachable Li-Polymer battery that can't be replaced.
Why can't I hear any sound from my computer or mobile phone?
Please check if the output channel of your computer supports the A2DP pro ile. Also, check the volume settings on your headphone and computer/mobile phone.
What do I do if Bluetooth can not close or open?
Please reset the Bluetooth function of the headphones by inserting an audio cable into the headphone audio port, then removing it. Before re-connecting, kindly remember to delete/ignore the headphone Bluetooth pairing name "Srhythm NC25" on your mobile phone.