The Justice Smart Watch App is a testament to innovation and convenience. Seamlessly integrating with smartwatches, it caters to modern-day challenges and needs. This app introduces a new era of intelligent wearables, encompassing many features to enhance user experiences.
Explore the innovative features of the Justice Smart Watch App that enhance safety and connectivity. Learn how to download Justice Smart Watch App and complete the setup.
Download Justice Smart Watch App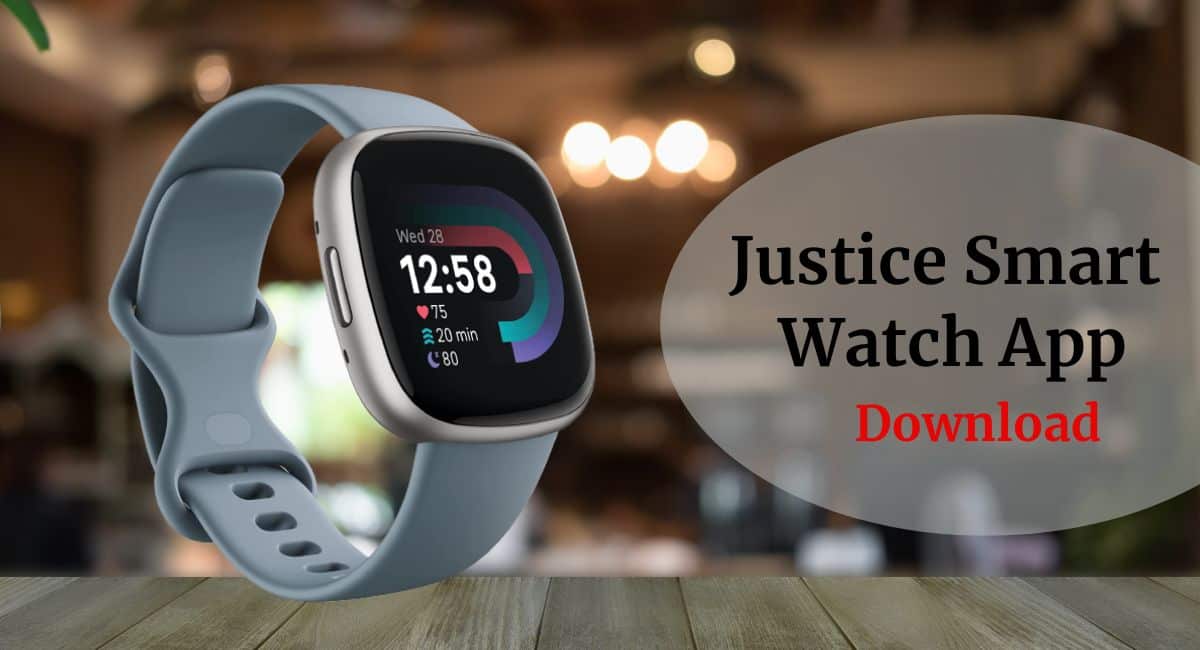 The Justice Smart Watch App is designed to complement your Justice Smart Watch, adding a whole new dimension to your wearable experience. With its user-friendly interface and array of features, this app brings convenience and customization to your wrist.
Benefits of the App
The Justice Smart Watch App offers plenty of benefits for users. From real-time health monitoring to staying connected with important notifications, here is what you can expect –
Comprehensive Health Tracking – Monitor your daily steps, track your heart rate, and set fitness goals to stay on top of your health journey.
Seamless Notifications – Receive alerts for calls, messages, emails, and app notifications directly on your wrist.
Remote Control – Control your phone's music playback and use your watch as a remote shutter for your phone's camera.
How to Download Justice Smartwatch App
If you want to download Justice Smartwatch App then here are are a few steps to download –
Open App Store in iPhone or Google Play Store in your Android phone.
Go to search section and type "Lefun Health App"
Now, select the app and Install on your phone.
At last, open the app and pair your smartwatch with your phone.
How to Pair Justice Smartwatch with Mobile
Here are a few steps to pair your Justice smartwatch with mobile –
Start by navigating to the Device Tab on the dashboard of the Justice SmartWatch app. Then, tap on the 'Add a Device' option.
On the initial screen, you'll see a list of compatible devices in proximity. Select your phone from this list.
Press and hold the power button on your smartwatch. Keep holding it until a QR code appears on the watch's screen.
Launch the QR scanner on your smartphone. Position your phone's camera to properly capture the QR code displayed on your watch.
Once the QR code is successfully recognized, the app will display a verification number. Enter this verification code on your smartphone to complete the pairing process.
Exploring App Features
The Justice Smartwatch App opens up a world of possibilities –
Health and Fitness Tracking – Stay on top of your health goals with the app's fitness tracking features.
Notification Customization – Customize which notifications you receive on your watch.
Remote Control Functionality – Control your music and capture photos with ease.
Wrapping Up
The Justice Smart Watch App redefines the way we interact with our smartwatches. Seamlessly connecting your device with your smartphone, it empowers you with real-time information, health insights, and remote control functionalities. Download the app today and experience the future of smartwatch technology.
I hope this blog was helpful to you and you have learnt something new today. For more information, you can keep coming Here
FAQ's Download Justice Smart Watch App
Is the Justice Smart Watch App compatible with both Android and iOS devices?
Yes, the Justice Smartwatch App is compatible with both Android and iOS devices.
Can I track my sleep patterns using Justice Smartwatch App?
Yes, The Justice Watch App includes a sleep tracking feature that allows you to monitor your sleep patterns.
How do I update the app to access new features?
To update the Justice Smartwatch App and access new features, simply visit the app store on your device (Google Play Store for Android or App Store for iOS), search for the app, and tap the "Update" button if available.
What should I do if my watch is not pairing with the app?
If you're experiencing difficulty pairing your Justice Smartwatch with the app, ensure that Bluetooth is turned on and that the watch is in pairing mode. Restart both your smartphone and the watch, and follow the pairing instructions provided in the app.