When it comes to choosing the perfect audio equipment, one of the most common debates among consumers is "JBL vs Boat." These two renowned speaker brands, JBL and Boat, have created a significant buzz in the market with their impressive offerings.
In this article, we will delve into the features, performance, design, and overall value of both brands to help you make an informed decision on which one suits your audio needs.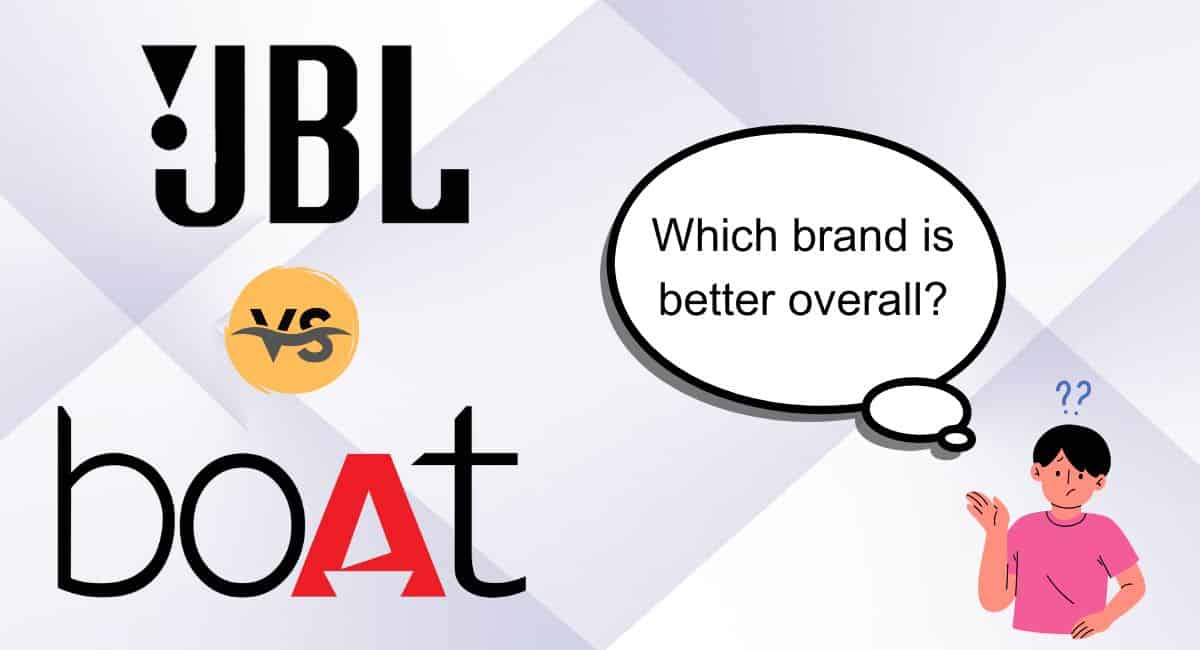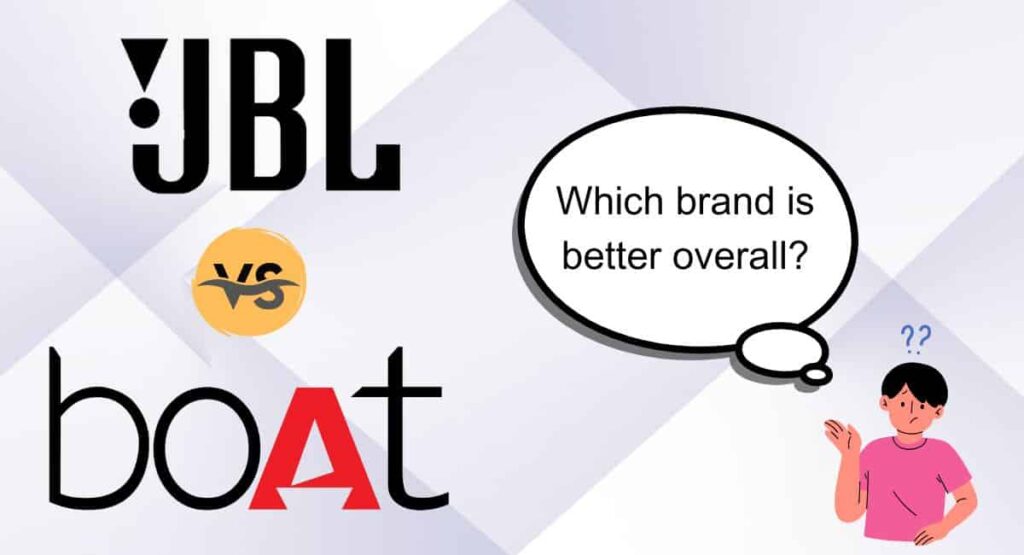 Is JBL a good brand?
JBL is generally considered a good brand, particularly in the realm of audio equipment such as speakers, headphones, and other audio accessories. They have a reputation for producing products with good sound quality, durability, and innovative features.
JBL, founded in 1946, has decades of experience in producing high-quality audio equipment and is known for its innovative engineering.
They have a premium range of products that compete mostly with Sony, Samsung, Sennheiser, and Bose.
JBL is well-regarded among consumers and professionals alike for its wide range of audio products that cater to different preferences and needs. However, as with any brand, individual experiences may vary, so it's always a good idea to research specific products and read reviews before making a purchase decision.
Overall, JBL is one of the top audio brands for the premium audio experience.
How is the JBL after-sales service?
JBL have Call, Email, and Whatsapp support and you can also visit their service center for their after-sales service.
If you live in big cities, you can find the JBL service center nearby and they may have pickup service. But if you live in the village, there may be no service center available nearby. Then, you will have to take your product to the service center.
Is boAt a Good Brand?
In the more recent landscape of audio technology, boAt has emerged as a noteworthy contender. Established in 2015, boAt has swiftly captured the attention of music enthusiasts, embracing contemporary design aesthetics and catering to youth culture.
The brand offers a diverse range of audio solutions, placing emphasis on affordability while maintaining high audio performance standards. As a result, boAt has carved a niche among millennials and Generation Z consumers.
How is the boAt after-sales service?
We are going to share our true story with the boat after-sale service. We had a boat Airdopes 141 with a 1-year warranty and it got defective within the warranty period. Then we went to the boat service center to replace the boat Airdopes.
You can also reach out to the boat support team via WhatsApp chat, Email- [email protected], or call 022-6918-1920 between 9 am to 7 pm.
They checked the product and said the product would be delivered. And yes, we received the new boat airdopes within 3 days.
So, is boat warranty service good? Yes, in our experience, boAt warranty service is good.
Is boAt warranty claim free? Yes, you can claim your boat warranty for free by visiting the boat service center and your product should be within the warranty period.
JBL vs boAt: Which is Better?
The JBL versus boAt comparison embodies a clash of two distinct philosophies within the audio technology realm. JBL prides itself on a rich legacy, premium materials, and meticulous engineering. On the contrary, boAt represents a youthful and dynamic approach, focusing on stylish designs and cost-effectiveness.
Determining which brand is superior largely hinges on individual preferences and requirements. If you value a time-honored brand renowned for delivering exceptional sound quality and craftsmanship, JBL might align better with your needs. Conversely, if you seek a modern, chic, and budget-friendly option, boAt could be the more suitable choice.
Related: Boult Audio vs boAt which is better?
boAt vs JBL: Earphones & Earbuds
Both boAt and JBL offer an impressive range of earphones and earbuds tailored to different preferences. JBL's earphones are celebrated for their balanced audio profile and cutting-edge noise-cancellation technology. In contrast, boAt excels in providing bass-driven alternatives that resonate strongly with the younger demographic.
boAt vs JBL: Headphones
Headphones represent another battleground for boAt and JBL. JBL leans toward sophisticated design and professional-grade audio quality, catering to audiophiles and enthusiasts. boAt, on the other hand, endeavors to deliver an immersive audio experience with trendy flair, particularly appealing to the fashion-conscious.
boAt vs JBL: Speakers
When it comes to speakers, JBL is synonymous with potent sound output and enduring durability. These speakers find their place in professional audio setups and home entertainment systems alike. In contrast, boAt positions itself with a range of portable speakers that strike a balance between convenience and audio prowess.
boAt vs JBL: Soundbar
Soundbars have gained traction for elevating TV audio, and both JBL and boAt offer compelling options. JBL's soundbars are esteemed for creating a cinematic soundstage, while boAt's offerings provide an economical means of enhancing your home theater experience.
Related: Is a Soundbar Better than Speakers?
Which Company is Bigger: boAt or JBL?
In terms of legacy and global presence, JBL takes the lead. With decades of experience and an extensive distribution network, JBL has entrenched itself as a household name on a global scale. On the other hand, boAt, despite rapid growth and significant strides, is still in the process of catching up to JBL's widespread reach.
How does boAt Compete with JBL?
boAt competes with JBL through a combination of factors. Its aggressive pricing strategy, trendsetting designs, and focus on the youth demographic have collectively contributed to its success. Moreover, boAt's savvy marketing campaigns, celebrity endorsements, and innovative product launches have facilitated its establishment within the market.
Conclusion
In conclusion, the debate between JBL and boAt isn't a matter of one being inherently superior to the other. Rather, it's about recognizing the unique strengths and focal points of each brand. JBL, with its storied legacy and premium offerings, caters to those seeking unparalleled audio precision. In contrast, boAt's blend of affordability, style, and contemporary appeal makes it an attractive option for a younger and trend-conscious audience. The ultimate decision rests on aligning your choice with your individual preferences and priorities.
Also, check this: