What do you think about headphones vs neckband earphones? Well, this question may come to your mind when you plan to buy one over another then you start thinking of which are better headphones or neckband earphones.
Before buying anything, anybody should do proper research so that they don't waste their money on a crap product.
Headphones vs Neckband Earphones which is better? It all depends on your use case. If you want to carry lightweight and pocket-friendly audio products then you should choose neckband earphones but if you want intense music listening, powerful bass, and enjoy every moment without thinking the product is pocket-friendly.
Well, there are many more differences that we have talked about in this whole guide.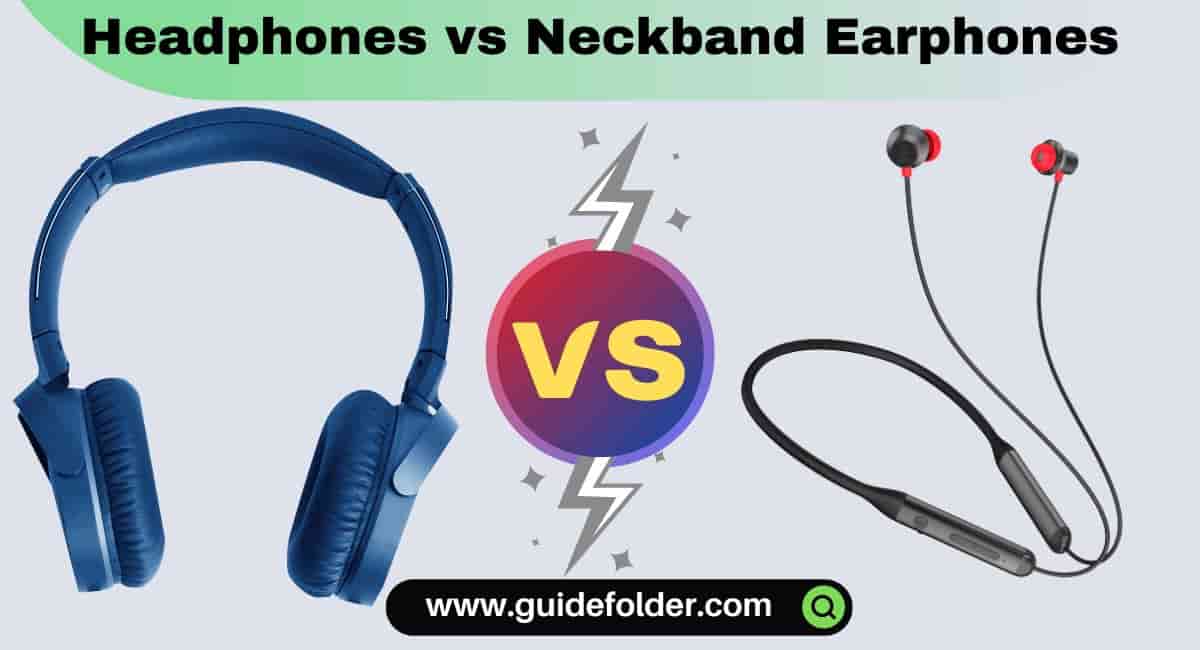 Build and Design
Talking about the headphones, There are two types of headphones in the market. The first one is the on-ear and the second is over-ear headphones. On-ear headphones are known as headphones that don't cover your whole earphones while over-ear headphones cover the ear completely that's why these types of headphones don't leak audio.
Talking about the design, the headphones have proper headrests made of soft cushions, earpad is also made of soft cushions. It can be folded by sliding up and down the earpad.
The headphones are more popular for their sound quality experience, professional headphones, gaming headphones, and powerful bass headphones. That's they are expensive too but you can also buy cheap headphones starting from 1000 budget headphones. The more money you spend on headphones, the more quality headphones you will get.
Generally, the headphones look cool on boys and girls when they wear headphones on their heads and carry them on their necks while traveling, gymming, or whatever.
But the headphones are not better than neckband earphones in case of portability.
Talking about Neckband Earphones, We have found two types of neckband earphones in the market. The first one is the in-ear and the second one is the half-in-ear neckband earphones. The in-ear earphones have ear tips on buds whereas half-in-ear earphones don't.
The design of the neckband earphones is so simple, lightweight, and pocket friendly. It has fewer features and specifications in comparison to headphones and is less expensive too. You will be able to find overall good neckband earphones under 1000, 1500, 2000, 2500, and 5000 Ruppes budget.
The neckband earphones are not as bulky as headphones. That's why the neckband earphones are easy to carry while traveling.
Connectivity Overview
For most of the neckband earphones and headphones, you have to turn them on and turn them off manually by pressing and holding the MFB button and they will connect to the last paired device automatically if they have a fast pairing feature.
The neckband earphones are only wireless whereas headphones can be wired or wireless and even both wireless with wired (if provided AUX cable).
Charging and Battery Performance
When it comes to charging and battery performance, there are some differences between headphones and neckband earphones.
Headphones usually have larger batteries than neckband earphones, which offer longer battery life between charges.
Neckband earphones, on the other hand, tend to be more compact, lightweight, and easy to carry while traveling. That's why they have usually smaller batteries and less battery backup.
However, the battery performance and charging capabilities of both headphones and neckband earphones can vary greatly depending on factors such as brand, model, and features. Therefore, it's important to check the specifications of the specific product you're interested in to get a better understanding of its battery life and charging capabilities.
Price: Neckband Earphones vs Headphones
The price of neckband earphones and headphones can depend on brand, models, and features. In general, headphones are more expensive than neckband earphones but there are exceptions too.
The premium headphones can cost 15000 or 10000 budget, the mid-price range can cost 5000 budget and lower-level budget headphones are available for under 3000 Rs. On the other hand, the neckband earphones can come under the 1000 Rs lower budget, mid-range 1500 to 2500, and higher-end under 5000 budget.
You might also like these best gaming headphones under 10000.
Wrapping Up
We have guided you from start to end for headphones vs neckband earphones which is better. Factors that can affect the price of headphones and neckband earphones include sound quality, noise-cancellation technology, wireless connectivity, battery life, and build quality.
It's important to consider your needs and budget when choosing between these two types of audio devices.
We have also covered the Wireless TWS Earbuds vs Neckband Earphones in the previous post.
Check out the best gaming headphones under 5000