Garmin produces classy wearables that are well-known in the market for it. However, it is possible to have problems no matter how perfect a product is. One such common issue is charging problems.
This tutorial will explain the exact steps to resolve the charging issue, regardless of whether you have a Garmin Forerunner, Fenix, or VivoActive.
Read this troubleshooting guide for how to fix Garmin Smartwatch Not Charging.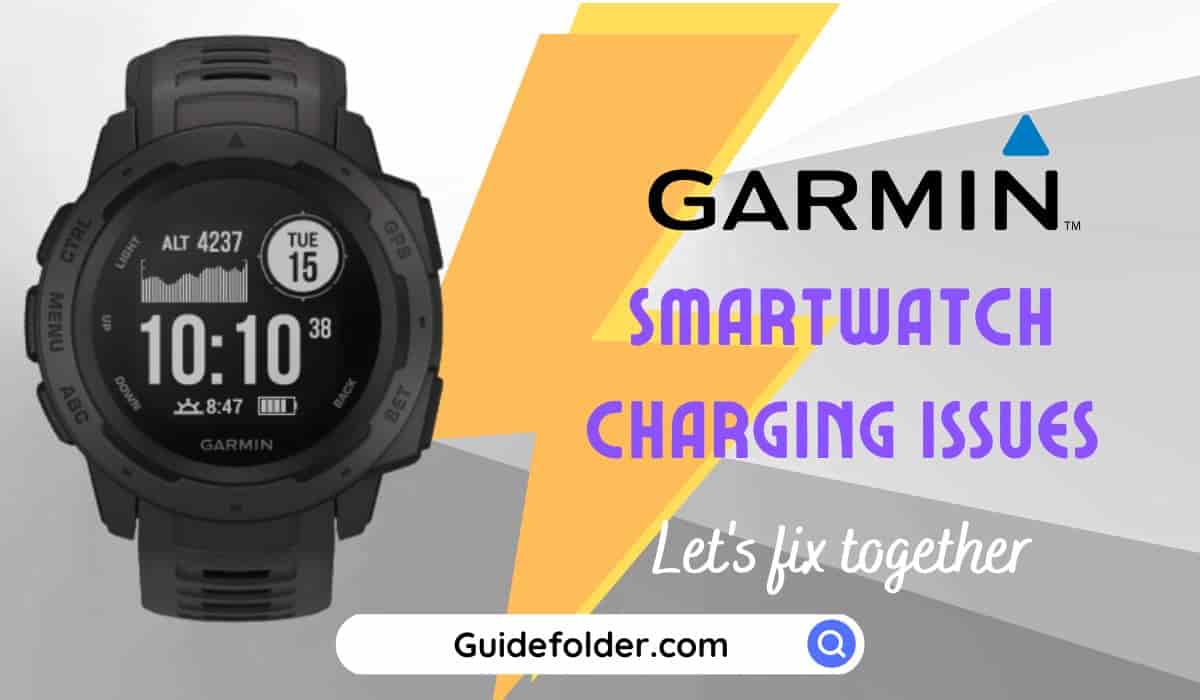 How should you charge your Garmin Smartwatch?
Charging Garmin smartwatches is super easy. All you need to do is just plug in the charger in the socket and connect it to the smartwatch. The charging shall start.
Reasons behind Garmin Watch Charging issues
Unclean charging sensors, defective cables, bad sockets, out-of-date software, or short battery life are the most typical causes of charging issues. All these issues are not worth worrying about and can be sorted out pretty easily.
We have mentioned in this article step by step how you can recover your smartwatch from these temporary issues.
Fix Garmin Smartwatch That Won't Charge
You may encounter a situation where your Garmin watch won't charge or won't turn on. In such case, try the following fixes:
Software update
Software problems can potentially prohibit your Garmin devices from charging in addition to physical flaws. It is advisable to regularly update your firmware and reset it to the default settings.
If your software is up to date, jump to the next step.
Restart Your Smartwatch
By pressing and holding the power button (often labeled as LIGHT or CTRL on Garmin watches), you can turn off your Garmin wearable.
Your smartwatch will switch off after 15 seconds of pressing and holding the LIGHT button. Press and hold the button for two seconds, then release it to switch on your watch.
Any electronic device's small problems can be resolved by initiating a restart. Your Garmin Forerunner smartwatch's charging problem can also be resolved with this.
The resetting process is the same for all Garmin smartwatches. Just follow the steps below:
Hold MENU.
Select or scroll to Settings.
Select System.
Select Reset.
Select Delete Data and Reset Settings.
If necessary, press DOWN and select Continue.
Select Yes to apply the reset.
This is how you reset your Garmin smartwatch.
Clean the Charging Sensors
On the back of the watch, there are actual charging sensors. In addition to creating an insulating layer over the sensors, it draws dirt from the surroundings.
Cleaning your charging sensors should be your first step if your Garmin watch won't charge when plugged in.
To completely clean the sensors on your smartwatch, use an alcohol-based solution and a soft cloth. Connect your Garmin smartwatch charger after cleaning to check whether charging occurs.
Make your way to the next step if your watch still won't charge.
Plug into another source
In order to protect your smartwatch from severe harm, the microprocessors on occasion produce a high power output from the smartphone adapter. As a result, the charging modules are stopped.
Avoid using your rapid charging adapter to charge your watch. Instead, connect your charger to a USB connection on your laptop, power bank, vehicle USB, or any other source with lower watts.
Try a different charging cable
Any electrical item that is plugged in but isn't charging also indicates a brokerage or fault in the charging cable.
If you see any damage, inspect your charging wire and replace it. On Amazon, you may purchase a replacement charger for a Garmin wearable.
Leave on Charger for One Hour
You must charge your Garmin watch sufficiently for the initial boost if the battery is fully dead. Before turning on your watch, plug it into the charger and wait at least an hour.
This is because the devices take some time to adapt to a new source and the cable also. Your watch also may take a few or more hours to adapt to the new cable or source. But it works for sure.
If your watch still isn't charging, it's possible that your Garmin battery, power adapter, or charging cord is broken.
What Should I Do if My Garmin Smartwatch is still not charging?
Above mentioned issues are general and can occur anytime with anyone. However, provided steps shall fix the problems. If the problem still persists, it has to be a hardware issue and you shall reach out to the customer support team at Garmin.
Verdict
All the issues mentioned above are quite usual and common due to some usage dysfunctions. And all of these can be cured. Moreover, all the products have a specific duration up to which they last.
If your watch is under warranty you shall bring it to a service center so professionals can cure it. If not, it is good to have a try at the steps mentioned above.
Check out more, if you need.
People Also Ask
Do Garmin watches have wireless charging?
Most of the Garmin smartwatches support wireless charging however exceptions are always there. We recommend checking the features thoroughly before getting one.