Michael Kors is a well-known brand in the market for its stylish apparel. Nevertheless, no matter how flawless a product is, issues might still arise. Charger issues are one of these frequent problems.
No matter what generation of Michael Kors Pave Smartwatch you have, this tutorial will provide precise 6 Ways to Fix Michael Kors Smartwatch not Charging.
If your Michael Kors Watch is not charging even though it is plugged into the charger, read these troubleshooting instructions.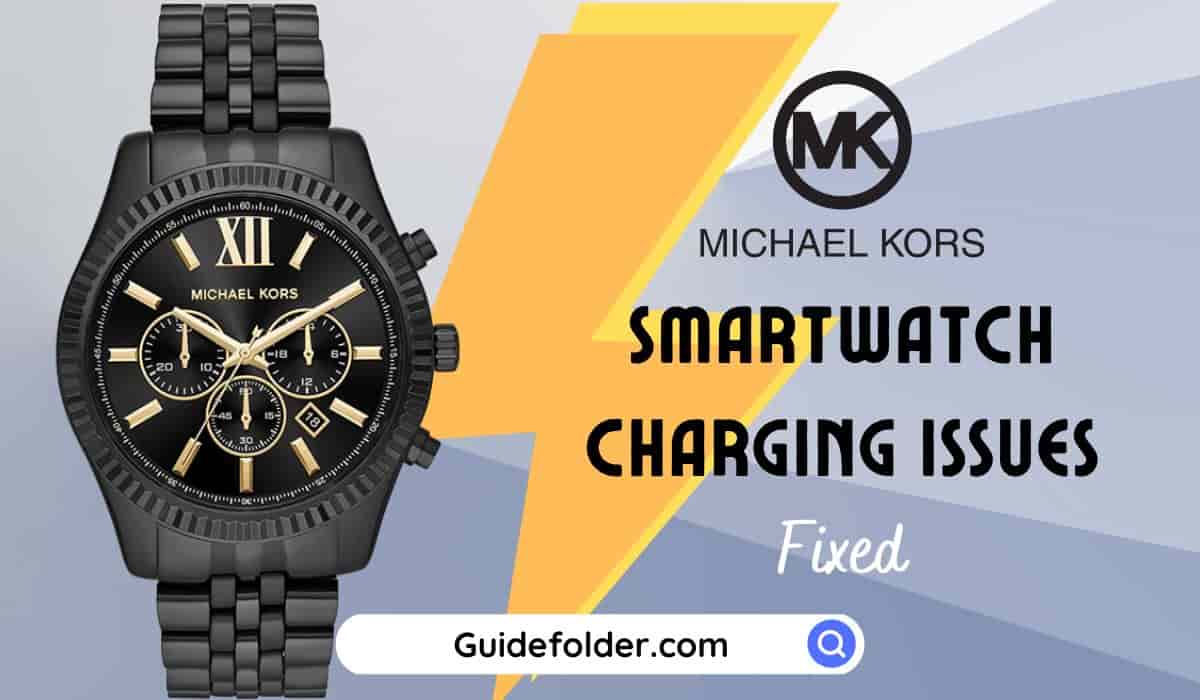 How should you charge your Michael Kors Smartwatch?
Charging Michael Kors smartwatches is super easy. All you need to do is just plug in the charger in the socket and connect it to the smartwatch. The charging shall start.
Reasons behind Michael Kors Watch Charging issues
The most frequent causes of charging problems include faulty cables, bad sockets, outdated software, faulty charging sensors, and limited battery life. All of these problems are readily resolved and are not worth worrying about.
How to fix your smartwatch from these transient troubles has been covered in detail in this post.
Fix Michael Kors Smartwatch That Won't Charge
Your Michael Kors watch could refuse to start or charge in some circumstances. In this situation, try these fixes:
1. Software update
In addition to physical defects, software issues could prevent your Michael Kors gadgets from charging. It is suggested to reset your firmware to default settings and update it frequently.
You can move on to the next step if your software is current.
2. Restart Your Smartwatch
You can turn off your Michael Kors wearable by pushing and holding the power button.
After holding the power button down for 15 seconds, your smartwatch will turn off. To turn on your watch, press and hold the button for two seconds before letting go.
Any minor issues with an electronic gadget can be fixed by restarting it. This can also fix the charging issue with your Michael Kors smartwatch.
The resetting process is the same for all Michael Kors smartwatches. Just follow the steps below:
Press the middle pusher button to power up the display.
Press the middle pusher button to enter the app menu.
Scroll and tap on Settings.
Tap on System.
Tap on Disconnect & Reset.
Tap the checkmark to confirm.
This is how you reset your Michael Kors smartwatch.
You might be interested in How to Factory Reset Fitbit Charge 2.
3. Clean the Charging Sensors
There are actual charging sensors on the watch's rear. It collects dirt from the surroundings and also adds an insulating coating over the sensors.
If your Michael Kors watch won't charge when plugged in, your first course of action should be to clean your charging sensors.
Use an alcohol-based cleaning solution and a soft cloth to completely clean the sensors on your smartwatch. After cleaning, plug in your Michael Kors smartwatch charger to see if charging occurs.
If your watch still won't charge, proceed to the next step.
4. Plug into another source
The microprocessors occasionally output strong power from the smartphone adapter to safeguard your smartwatch from serious damage. The charging modules are consequently stopped.
Do not charge your watch with your rapid charging adapter. Instead, attach your charger to a USB port on your laptop, power bank, car, or any other device that has a lower power supply.
5. Try a different charging cable
Any electrical device that has a charge cord plugged in but isn't charging also suggests a break or other issue with the charging wire.
Examine your charging wire for damage, and replace it if found. A Michael Kors wearable replacement charger is available on Amazon.
6. Leave on Charger for One Hour
If the battery is completely dead, you must charge your Michael Kors watch sufficiently for the first boost. Plug your watch into the charger and wait for at least an hour before turning it on.
This is because it takes some time for the devices to adjust to a new source and cable. Additionally, it can take your watch a few hours or longer to get used to the new cable or source. But it undoubtedly functions.
Your Michael Kors battery, power adapter, or charging wire may be damaged if your watch still isn't charging.
What Should I Do if My Michael Kors Smartwatch is still not charging?
The problems listed above are universal and can affect anyone at any time. But the suggested actions will resolve the issues. You should contact Michael Kors customer service if the issue still exists because there must be a hardware problem.
Verdict
All of the mentioned problems are rather typical and prevalent as a result of some usage dysfunctions. And each of these is treatable. Additionally, each product has a limited time frame during which it can be used.
You must take your watch to a servicing facility if it is still covered by warranty so that experts can fix it. If not, it would be wise to try the aforementioned methods.