Have you bought any boat bluetooth speakers recently? Are you planning to buy boat wireless speakers? The first thing you should know is how to pair boAt Stone Bluetooth Speaker to a mobile phone, laptop, computer, tv, or any media device.
Pairing with any Bluetooth device is very easy. You have to just follow the simple process to set up the pairing with any Bluetooth device. Follow the given below detailed guide.
Things to keep in mind before Pairing
There are many things that we need to know before pairing. Those all thing have given below.
Both devices should be within the Bluetooth range limit.
The bluetooth device should have a sufficient battery charge.
The Bluetooth device is should be discoverable.
How to Pair boAt Stone Bluetooth Speaker (Step by Step)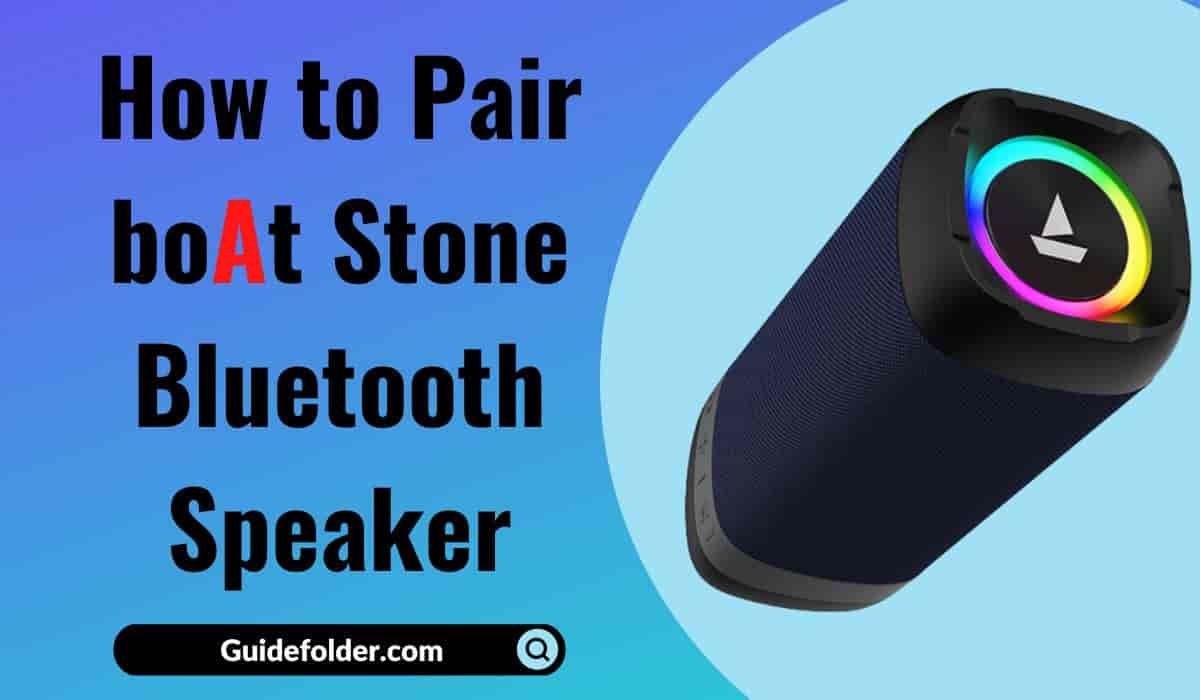 There are four steps to pair your boAt Bluetooth speaker with a Bluetooth device such as a mobile phone, laptop, or tv.
1. Turn on the boAt Speakers
There are many boAt Stone speakers that the boat brand has already launched. All the boat stone speakers have similar steps to turn them on.
For turning on the boat speakers, just press and hold the power button (Multi-Function Buton) until the voice prompts like "Power on".
There are some popular boat speakers such as boAt Stone 1000, boAt Stone 1200, boAt Stone 200, and boAt Stone 1000v2. It may happen you have another model boat speaker. For all boat speakers, you can follow the same process.
2. Find your boAt Stone device on your phone, laptop, or tv and pair them.
Android Smartphone: The majority of people use android smartphones in India so we start with the android phone for pairing your boAt Stone speaker.
First of all, Go to the settings of your smartphone.
Click on Bluetooth.
Turn on the Bluetooth.
From the available Bluetooth device, you have to select boAt Stone.
Now, it is now paired.
iPhone: For all models of iPhone smartphones, you can follow the given below guide.
First of all, go to settings.
Go to Bluetooth.
Turn on the Bluetooth and find your boAt stone device in the Bluetooth list.
Windows Laptop: Many of you want to know how to pair boat speakers to windows 8, windows 10, or windows 11. Here are the step for connecting your boat speakers to your laptop.
First of all, Go to the settings of your windows laptop.
Go to devices.
Turn on the Bluetooth.
For the first time, you have to add your boat speaker device to a windows laptop. For adding, click on Add Bluetooth or another device and add your speaker device.
If you have already added your boat speaker, You have to just click on boat stone to connect.
MacOS: For the Mac Laptop user, you can follow the given below steps.
Go to the Apple menu and choose System Preferences.
then click Bluetooth and Select your boAt Stone device from the list, then click Connect. If asked, click Accept.
Smart TV: Mostly have Smart TV nowadays. So they want to connect the speaker to tv in order to feel the same as theater experience.
Firstly, Go to settings of your smart TV.
Then Go to Remotes & Accessories.
Click on Add accessory.
Now, you have to click on boAt Stone Speaker Device in the list, then asked for Pair. Then click on Pair to connect.
3. Confirming Successful pairing
After successfully pairing your boAt Stone speaker, the LED light on the boat stone speaker may flash or stop blinking, it all depends on the model of the boat speaker. You can also hear the voice prompt after successful pairing in your boAt Stone speakers.
4. Resolve Not Pairing Problem
If you have followed all the above steps for pairing your boAt stone speaker but are not able to pair it. You can forget the boat speaker device from your bluetooth device if now problem still exists then you can follow our detailed guide on how you can troubleshoot the not connecting problem.
Wrapping Up
This was the detailed guide on how to pair boat stone Bluetooth speakers which you can follow for all models of boat stone speakers and even you can follow the same for other branded speaker pairing.