Do you have a query like "is boult audio a good brand or company"? If it comes to your mind before buying Boult Audio Brand product then it is fair.
We have tested the boult audio gears and also experienced after-sales service. Based on our experience with boult audio, we have written all here about boult audio.
About Boult Audio
Boult Audio is a high-end consumer electronics company specifically related to wearable gear such as earbuds, neckband earphones, headphones, and smartwatches. It was founded in June 2017 by Varun Gupta (Co-Founder) and the headquarters is in Gurgaon.
As per the reports published on the Boult Audio page, More than 1 crore units have been sold till now. Currently, Saif Ali Khan and Surya Kumar Yadav are the brand ambassador of boult audio. (Source)
Is Boult Audio an Indian Brand?
Boult Audio comes under the company's legal name Boult Audio Private Limited. Boult Audio is an Indian brand but products are made in China and branded as Boult Audio.
The Headquarters is at Boult Audio, Ground Floor, DLF Tower Plaza, DLF Phase 1, Sector 26A, Gurgaon – 122002.
Is Boult Audio a Good Brand?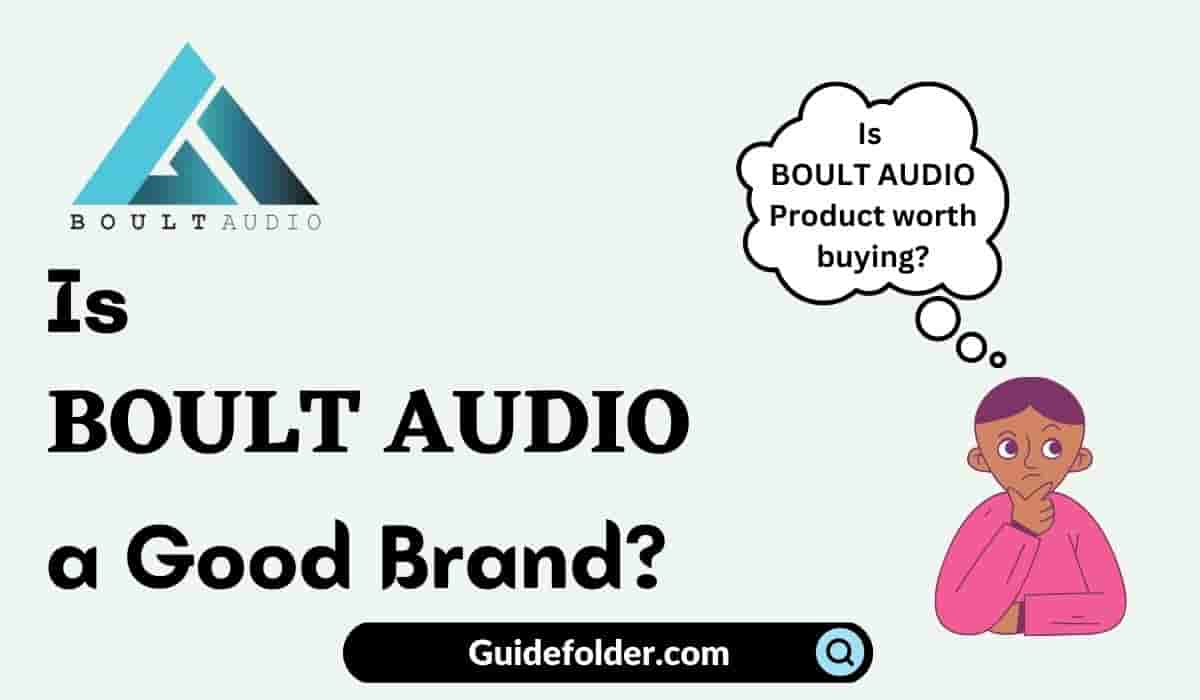 Yes, Boult Audio is Reputed, trusted, and good brand because of its popularity on various marketplaces such as Amazon, Flipkart, and more.
When it comes to whether the brand is trusted or not. Very first thing, we checked the ratings and reviews on Amazon and Flipkart for Boult audio gear and we found a lot of positive ratings and reviews there.
Second thing, we tested the Boult Audio product and found the good and bad parts both. Most of the products are value-for-money products but some of them are average.
Best Boult Audio Neckband Earphones in India in 2023
There are 3 best Boult audio neckband earphones which we have listed here after review. These are value-for-money products as well as rich in features.
Boult Audio Curve ANC: It comes with ANC up to 25dB with great sound quality. It has 30 hours of playback time. We have compared Boult Audio Curve ANC with boAt Rockerz 330 ANC and found the Bolult Audio Curve ANC is value for money neckband earphone under a 1500 budget.
Boult Audio ZCharge: With a tight budget for 1200 budget, you can consider this because it has an impressive calling quality, boom boom bass, and lightweight design. Check the comparison of Boult Audio ZCharge vs boAt Rockerz 255 Pro Plus.
Boult Audio FXCharge: It is also a value-for-money wireless earphone under 1000 budget due to its overall great package.
You might also like these best wireless earphones under 1500
Best Boult Audio Earubuds in India in 2023
We have found value for money with loads of feature Boult Audio earbuds under the 2000 budget. The Boult Audio Omega and Boult Audio X60 are the best.
For gaming Boult Audio Maverick, it is the best earbuds that come under the 2000 budget.
We have already covered the updated list of the best Boult Audio earbuds in India in 2023 which you can check out.
How is the after-sale service of Boult Audio?
Any brand is considered to be good if their after-sale service seems good and smooth process for customers who bought the product.
If your Boult Audio product has any issues of defective. You can claim an online or offline warranty if your product comes under the warranty period.
Offline, you have to go to the Boult Audio Service center nearby your locality and then you have to submit the defective product along with the invoice bill.
Then you will get a receipt and they will say the product is to be delivered within 15 days to your address.
Now, how to register an online complaint for Boult Audio warranty service? To register an online complaint about the after-sale service, follow the simple steps.
Go to Boult Audio Official website and Find the Service Center under the Support & Warranty Menu. Now enter the Pincode or State if any service center exists then you will see it. Otherwise, you will get a Register Service Request Button Link appearing on the screen.
Then fill up the Online Register Request Form, Upload the invoice, and then send your defective product to the nearest Boult Audio Service Center.
After all, you will get a replacement product within 15 days of submitting the defective product.
You can also track the status of your complaint on the Boult Audio Website. Just Enter the Ticket Number and Click Check.
Wrapping Up
Boult Audio Offers a wide range of wearables gear such as earphones, earbuds, headphones, and smartwatches. Overall, most of the products are great value for money and some are average. It has innovative unique designs for audio gear.
And yes, we can say that some products from the Boult Audio brand are better than others. But overall, boult audio is a good and trusted brand.
But some users may have different preferences or experiences with their products. It's always a good idea to read reviews and do some research before making a purchase to ensure that a product meets your specific needs and expectations.
We have also covered the best boat neckband earphones under 1500 and the best boat airdopes under 1500 that you can check out.
Frequently Asked Question
Who are the brand Ambassadors of the Boult Audio Brand?
Saif Ali Khan and Surya Kumar Yadav are the brand ambassador of Boult audio
Is Boult Audio an Indian Brand?
Yes, Boult Audio is an Indian Brand.