Are you confused between Srhythm NC75 Pro and NC35? Srhythm is presenting budget-friendly ANC headphones and probably you might have seen a few of those. It is possible that you have come here to compare these two. To make your decision easier, We are presenting Srhythm NC75 Pro vs NC35 so you can buy the best one without any further doubt.
People buy headphones if they like listening to music for long hours. That is because the in-ear devices after a long time feel stuck in the ears. It's like forcing your ears to listen to the music, even if they don't want to. While headphones, especially over-ear, take better care of your ears with comfort.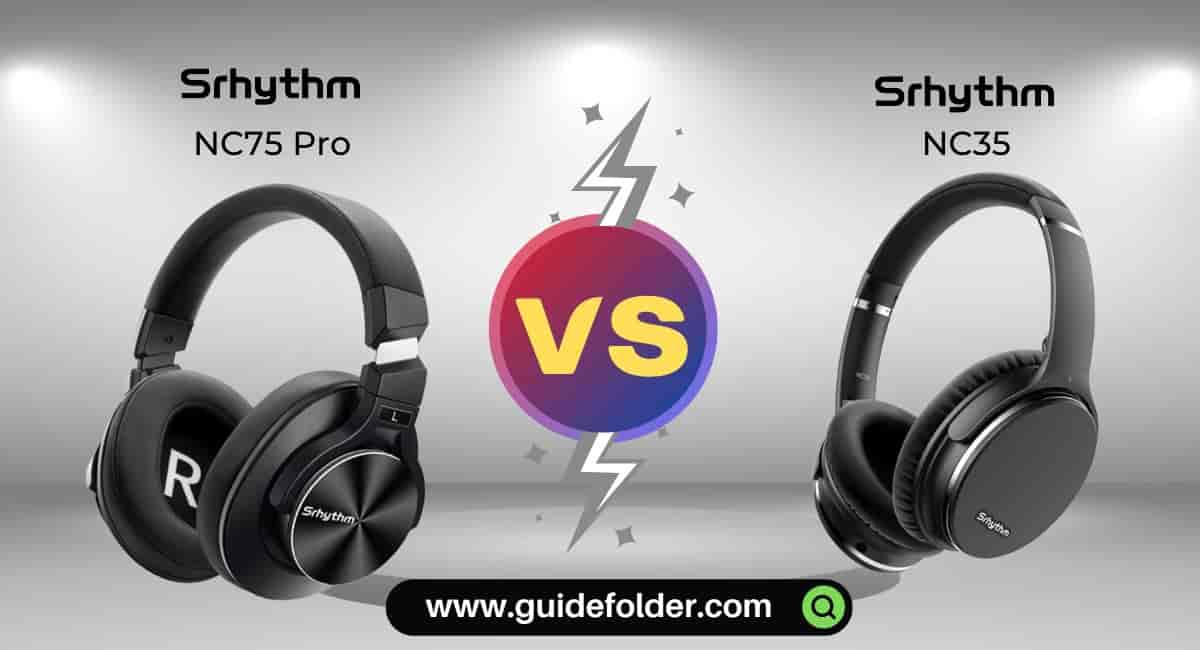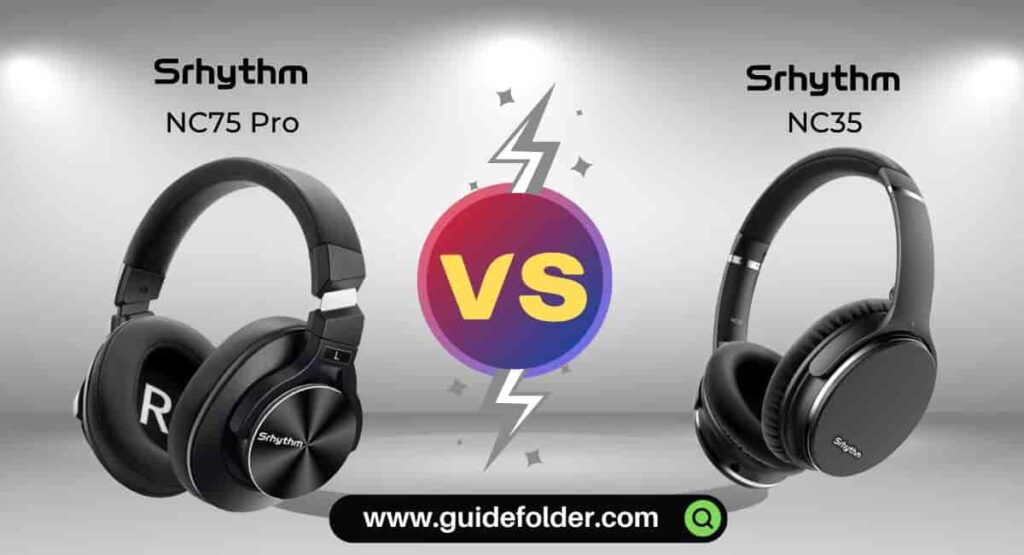 Build Quality Comparison
| | | |
| --- | --- | --- |
| Product | Srhythm NC75 Pro | Srhythm NC35 |
| Type of Headphones | Wireless | Wireless |
| Design | Over-Ear | Over-Ear |
| Built with | Strong Plastic | Strong Plastic |
| IPX rating | IPX4 | IPX4 |
| Foldable | Yes | Yes |
| Hinges | Metallic | Plastic |
| Weighs | 9.9 ounces | 6.3 ounces |
| Overall | Better | Good |
Looking at the build quality, Srhythm NC75 Pro feels massive and so much premium with a bulky and handsome design. The headphone is made with strong plastic with metallic strips in the headband and hinges. It is rated IPX4 for water resistance, a quite rare feature seen in headphones. These are hyper-comfortable as the foam used is so soft and durable. The headphones give a premium feel and have a durable and strong design for a long-lasting period.
While in Srhythm NC35, there is something different that looks like a budget headphone. The design is simplistic and flat. The ear cups rotate 115° and each one is heavily padded with memory foam and PU leather. The headband and hinges are plastic made but are durable enough to withstand casual drops. The right earcup has button controls with 4 buttons namely <, >, MFB, and ANC buttons. The over-ear design adds comfort to enclosing the ears.
Connectivity Comparison
| | | |
| --- | --- | --- |
| Product | Srhythm NC75 Pro | Srhythm NC35 |
| BT version | v5.0 | v5.0 |
| Wireless range | 10m | 10m |
| I/O Ports | Aux, micro-USB | Aux, USB-C |
| Latency | Usual | 50ms |
| Multi-device connection | Yes | Yes |
| Instant Pairing | Yes | Yes |
| Overall | Good | Better |
In terms of connectivity, we get differences here. Srhythm NC75 Pro has better connectivity features including BT5.0 and multi-device connection or dual pairing. Unfortunately, it does not have low latency mode as the inferior models of the NC series used to, but that\'s okay. What might be mindful is that it still has micro-USB but it is also okay as they are providing the cable and it supports Fast charging as well.
While in Srhythm NC35, we see all the connectivity features of NC75 Pro with low latency mode which is quite delightful in games and movies. Also, it has a newer USB-C port.
Battery & Charging Comparison
| | | |
| --- | --- | --- |
| Product | Srhythm NC75 Pro | Srhythm NC35 |
| Battery Capacity | 750mAh | 1000mAh |
| Playback time | 40 hrs | 50 hrs |
| Quick Charging | Yes; 10 mins = 3 hrs | Yes; 10 mins = 3 hrs |
| Charging time | 2 hrs | 2 hrs |
| Charging Port | micro-USB | USB-C |
| Overall | Good | Better |
Here we have Srhythm NC35 winning. They claim the headphone to have a 1000mAh battery which is massive according to a headphone. The battery life is quite satisfying with an eternal 45-50 hours. With ANC, these can manage up to 35 hours. The headphone supports fast charging and gets ready for 3 hours in just 10 minutes of rest.
While in Srhythm NC75 Pro, the 750mAh battery runs for 35-40 hours. With ANC the headphone can manage up to 27-30 hours with ANC. Fast charging is quite fast as mentioned for its counterpart. Also, do you mind if it has micro-USB?
Sound Quality Comparison
| | | |
| --- | --- | --- |
| Product | Srhythm NC75 Pro | Srhythm NC35 |
| Drivers size | 40mm | 40mm |
| Clarity | Better | Good |
| Loudness | Better | Good |
| Frequency | 20Hz-20kHz | 20Hz-20kHz |
| Bass Quality | Better | Good |
| Noise Cancellation | Yes | Yes |
| Ambient mode | No | No |
| Mic Quality | Better | Good |
| Overall | Better | Good |
Finally, if we look at the sound quality of both headphones, we get the immersive sound quality in Srhythm NC75 Pro. The 40mm drivers, even though usual, produce exhilarating bass with adequate clarity and accuracy which ills the punchiness and thump of the EDM tracks. What is even more impressive is the clarity. thanks to their frequency accuracy which gives you even sharper vocals and instrumentals.
For ANC, these are usual, not too good and bad, just equal to its counterpart, as the frequency range they both follow is the same. Higher frequency ranges are able to cancel high-frequency noises, but these are both kinds of equality in terms of ANC. And both miss the Ambient mode. The mic and call quality are better in Srhythm NC75 Pro.
While on the other hand, Srhythm NC35 has a balanced sound but not enough with EQ settings. The frequency range is quite moderate and common. They do not fail to provide an acceptable sound but the point is their counterpart over-delivers in terms of sound and ANC.
Price Comparison
| | | |
| --- | --- | --- |
| Product | Srhythm NC75 Pro | Srhythm NC35 |
| Max. Price | $89.99 | $75.99 |
| Min. Price | $47.99 | $48.99 |
| Good to buy under | $70 | $70 |
| Current Price | | |
Wrapping up
From top to bottom, we looked at the features and quality comparison. In terms of build quality, we get a massive and impressive design and body in Srhythm NC75 Pro. The headphones have comfort and a handsome design. For connectivity, battery, and charging features, we have little improvements in Srhythm NC35 but in terms of sound quality NC75 Pro holds the battle again.
The headphones' makers were quite explicit that they were only intended to block out low-frequency sounds and did not provide complete noise cancellation. Therefore, these headphones are ineffective at canceling out human voices and other high-frequency noises.
The question remains shall we go with Srhythm NC75 Pro? Is the headphone worth expanding the budget? Well, it depends if you are a fashion and music enthusiast. Its counterpart has little improvements but that can be given up if you are.
Srhythm NC35 is a very nice and budget-friendly headphone, but in terms of value for money, they both are excellent. If you care for Sound quality and design, You can easily pick Srhythm NC75 Pro without any regrets in the future.
| | |
| --- | --- |
| Srhythm NC75 Pro | Srhythm NC35 |
| | |
We did a comparison guide between Srhythm NC25 and NC35 for you that you can check out.