Are you not able to decide between these two fantastic earbuds to buy? It is messy sometimes when it comes to earbuds, especially from TOZO. They have consumed the whole market with their budget-ranged beasts. You are probably here to decide here between these two. For that, our article might help. Presenting TOZO T10 vs A1 Comparison So you can know the better one!
We found that many people search for earbuds according to different price ranges. TOZO is the most popular brand in below 50$ searches. So we picked the list of TOZO earbuds and started comparing them according to their build quality, Connectivity, Sound quality, Batter, and charging features. And here you will get to know the better one among these two. The short answer is TOZO A1.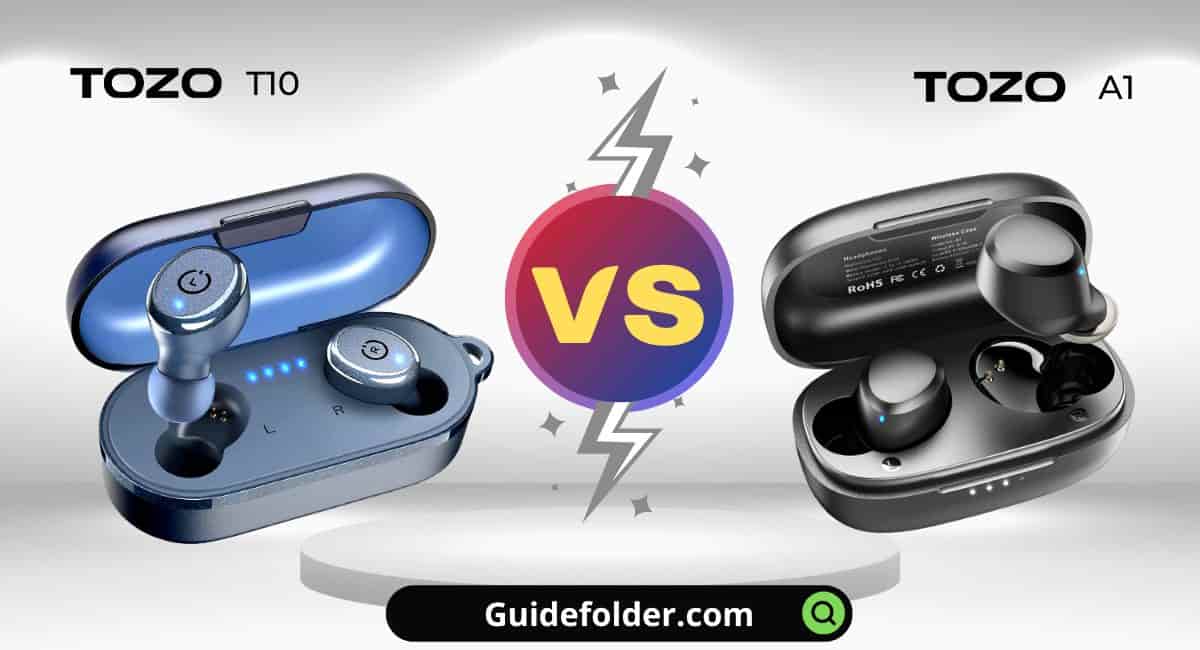 Build & Design: TOZO T10 vs A1
| | | |
| --- | --- | --- |
| Product | TOZO T10 | TOZO A1 |
| Type of Earphones | in-Ear | in-Ear |
| Design | Beads shaped | Beads shaped |
| Built with | Premium Plastic with a matte finish | Premium Plastic with a matte finish |
| IPX rating | IPX8 | IPX5 |
| Battery life Indicator | Yes | Yes |
| Controls | Button controls | Touch controls |
| Weighs | 4.9 ounces | 0.141 ounces |
| Overall | Good | Better |
The TOZO T10 are compact, completely wireless earphones that have a simple appearance. They don't protrude too far from the ear, and their physical buttons have a smooth surface. They have a matte plastic exterior with a thin band of glossy black outside, and they don't look particularly cheap overall. Compared to the majority of totally wireless in-ears we've tested, these headphones are less comfy. The TOZO T10 is well constructed overall. Despite being constructed of plastic, they seem very substantial and robust. The casing and the earbuds themselves have waterproof ratings of IPX8.
While on the other hand, The TOZO A1 Mini Wireless Earbuds have a minimalist design and a straightforward, matte-black finish. They differ from others due to their lightweight construction. In comparison to other earbuds, each one weighs just 3.7 grams, making them exceptionally small. The earpieces and the case are both composed of sturdy plastic that seems resilient enough to endure light drops.
Connectivity Comparison
| | | |
| --- | --- | --- |
| Product | TOZO T10 | TOZO A1 |
| Bluetooth version | v5.3 | v5.3 |
| Bluetooth range | 30 Feet | 30 Feet |
| I/O Ports | USB Type-C | USB Type-C |
| Wireless Charging | Yes | No |
| Wired Charging | Yes | Yes |
| Dual Pairing | No | No |
| One-Step pairing | Yes | Yes |
| Overall | Better | Good |
True wireless in-ears with Bluetooth 5.0 capability are the TOZO T10. Unfortunately, they do not allow NFC or multi-device pairing, and because of their excessive latency, they are not suitable for gaming. However, enjoying a movie is fun. These headphones cannot be used wired, just like any fully wireless in-ears that we have tested thus far (through AUX). A brief micro-USB connection is included to charge the case.
From the connectivity point of view, there is only one major difference which is for wireless charging. TOZO A1 does not support wireless charging, the rest all the features and performance can not be differentiated.
Battery & Charging Comparison
| | | |
| --- | --- | --- |
| Product | TOZO T10 | TOZO A1 |
| Battery Capacity | Not Mentioned | 40mAh for earbuds, 400mAh for case |
| Playback time | 6 hrs for buds; 24 hrs for case | 5 hrs for buds; 22 hrs for case |
| Charging time | 2 hrs by wireless and 1.5 hrs with USB C cable for the case | 1.5 hrs |
| Charging Port | Type-C | Type-C |
| Overall | Better | Good |
These headphones have dismal battery life. Their 3.5-hour battery life is on the lower end for fully wireless headphones, and while being very large, their case only holds four more charges. The good news is that they outperform the 3 hours of promised battery life and only require an hour to fully charge.
In most respects, the battery life of the A1 earphones appears to be "middle of the road." Each earbud has a battery life of about 4-5 hours at standard temperatures and a volume level of 60%. Only once did we truly get 6 hours of use from a single full charge. As mentioned earlier, the charging is not wireless here.
Sound & Call Quality Comparison
| | | |
| --- | --- | --- |
| Product | TOZO T10 | TOZO A1 |
| Drivers size | 8mm | 6mm |
| Clarity | Better | Good |
| Loudness | Better | Good |
| Frequency | 16Hz-20kHz | Not mentioned |
| Bass Quality | Good | Better |
| Overall | Better | Good |
The entire bass accuracy range is greatly overemphasized in the TOZO T10, resulting in thumpy and boomy bass. While these headphones have respectable treble accuracy. These headphones work fairly well in terms of noise isolation. Despite the fact that they lack active noise cancellation (ANC), they perform a good job of passively reducing background noise. These earbuds have unexpectedly good overall quality with a microphone that is slightly better than other Bluetooth in-ears.
While on another side, in TOZO A1, the sound quality is a little focused on the bass. The bass is not as high as T10 but is quite balanced. The sound quality is clear though! The mic quality is similar and for Noise cancellation, it depends on the fit inside the ears.
Price Overview: TOZO T10 vs TOZO A1
| | | |
| --- | --- | --- |
| Product | TOZO T10 | TOZO A1 |
| Max. Price | $29.99 | $31.99 |
| Min. Price | $19.99 | $15.99 |
| Good to buy under | $30 | $20 |
| Current Price | | |
Wrapping Up: Which is better TOZO T10 vs A1?
Looking at both of the earbuds by feature to feature separately, TOZO T10 are passable truly wireless headphones. Their bass-heavy sound profile is good for fans of EDM or hip-hop. Some may find their bass overpowering. They don't have a companion app to adjust their sound profile or make changes to their bad controls.
While The TOZO A1 Mini Wireless Earbuds are an excellent bargain. They're simple, easy to use, and perform well in most scenarios. For the price, you'll be hard-pressed to find another pair of compact earbuds that deliver this kind of value.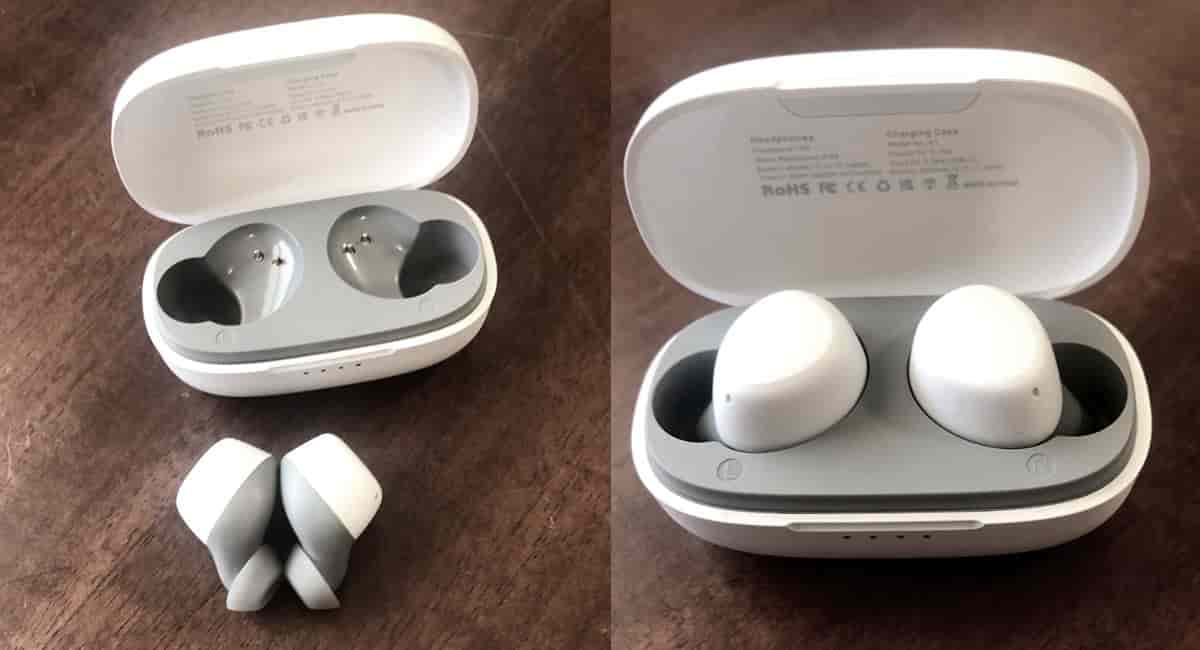 So in our vision, TOZO A1 deserves your money in terms of value. TOZO T10 is superior in terms of features but the differential price is not worth spending. You can charge the earbuds with cable of course. But when it comes to sound quality and controls, You might get irritated with button controls. The battery life you won't mind. And most importantly, the design it has is fabulous.
We also did a comparison guide on TOZO T6 vs T10 in the previous guide.
You can also check out this TOZO NC9 vs NC9 Plus Which is better?
FAQs Related to TOZO T10 vs A1 Comparison
Which headphones have better build quality?
Although both of these have the similar build quality, the properties may di er according to controls and Water resistance. TOZO A1 is better overall.
Which headphones are better for bass output?
TOZO T10 has overpowered bass which gets observed in EDM tracks. While TOZO A1 has balanced optimum bass. So, TOZO A1 is better, but for more quality bass, there are other options too.
Which headphones are better for Noise cancellation?
None of the earbuds has Active Noise cancellation, However, Passive Noise cancellation varies from ear to ear on the basis of it. In our opinion, TOZO A1 is better.
Can we custom Equalizer settings in earbuds?
No, There is no Equalizer app available for TOZO earbuds.
Can we connect these headphones to a PC or laptop?
The headphones can be connected to any Bluetooth-compatible device.