Do you want to play the game like a pro? What would you prefer between headphones and earbuds for gaming?
It all depends on your priority: comfort, sound quality, portability, and price.
Then, Are Headphones Better Than Earbuds for Gaming? Headphones and earbuds are good as they fit according to a person's priority. Depending on your priority, you should use whatever you want to use.
We are here to help you to decide which fits you better for gaming in this detailed post. Let's start all this here.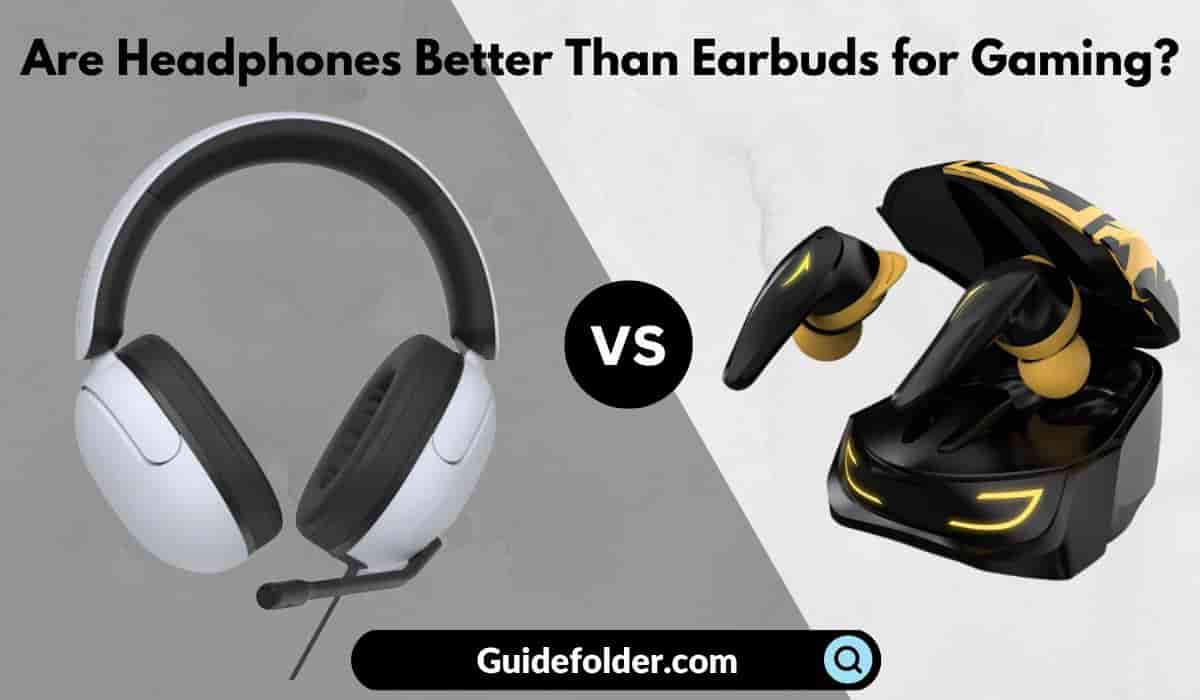 Are Good Headphones Worth it for Gaming?
There are so many gaming headphones available in the market. How do you choose the best gaming headphone in the market? Moreover, there are two categories in the gaming headphones segment one is wired and the other is wireless gaming headphones.
For the gaming latency purpose and price point, wired gaming headphones are better because you don't feel much latency while playing games and the price is also lesser than wireless.
Then, Are wired gaming headphones better than wireless? But the higher-end price range of wireless gaming headphones is also good for low-latency gaming.
The best option is to choose hybrid connectivity gaming headphones which have an aux cable for wired connectivity and bluetooth for wireless connectivity.
Should I use headphones instead of earbuds? The sound quality, noise cancellation, and microphones that you will get are better in headphones in comparison to earbuds. So if your priorities are those then you should definitely choose headphones instead of earbuds.
Check out these best gaming headphones under 10,000 budget
Are Earbuds Good Enough for Gaming?
Using earbuds for gaming is good enough when it comes to comfort, portability, and lightweight with great sound quality.
When you are outside and don't want to carry bulky gaming headphones then you can use earbuds because of its comfort and portability.
Then, Are earbuds good for PUBG? Yes, earbuds are good for PUBG (BGMI), Freefire, and other mobile games because most mobile gamers play outside their home or anywhere else. So earbuds would be the best fit for mobile gamers.
Moreover, it doesn't make you feel heavy when you use it for longer hours, unlike headphones. This is also another reason for using earbuds for gaming.
Why do gamers use earbuds instead of headphones? At last, the reasons for using gaming earbuds instead of headphones are comfort, portability, and lightweight.
Are Earbuds Good for Competitive Gaming?
In the case of mobile competitive gaming, you can use earbuds if you are willing to use them for comfort.
For PC competitive gaming, you should use headphones for the best experience with sound quality, mic quality, and good latency. Because the headphones have a larger audio driver, it does have enough space for the larger audio driver to enhance the sound quality and it does have a quality mic too.
Overall, You should use gaming headphones for competitive gaming be it mobile gaming or PC gaming.
What's better earbuds or headphones for gaming?- Wrapping Up
It is always better to stick with gaming headphones because they offer high-quality sound, low latency for gaming, and active noise cancellation for a better gaming experience.
But you can also use earbuds if you want a comfortable and portable experience while playing games such as mobile gaming PUBG, Free Fire, and more.
I hope you got your answer to "Are Headphones Better Than Earbuds for Gaming".
You might be interested in the Best Gaming headphones under 10000 in India.
If you have still any doubts, feel free to comment below.