Are you looking for wireless gaming earbuds for your hassle-free gaming needs? With proper testing, we are presenting our list of 5 Best TWS Gaming Earbuds under 1500 in India in 2023 which will help you further to decide the best one for you.
The idea is quite unique yet there are enough earbuds available in the market especially made while keeping gaming needs in mind.
Gaming requires long battery life, comfort, aggressive looks, and most importantly, low latency. All these are packed with these features. While in sound quality also there is some similarity in equalizers. Although the sound clarity is much higher than usual music earbuds. Gaming requires super high clarity to trigger the gaming sounds of the game for real-time instant action.
Keeping in mind the above-mentioned and As per the guide on MakeUseOf, you should consider wired gaming headphones first if you want to play a hardcore game because it has no latency, is affordable, and do not need to charge so you can play the game for a longer time.
Which are the Top 5 Best TWS Gaming Earbuds under 1500 in India in 2023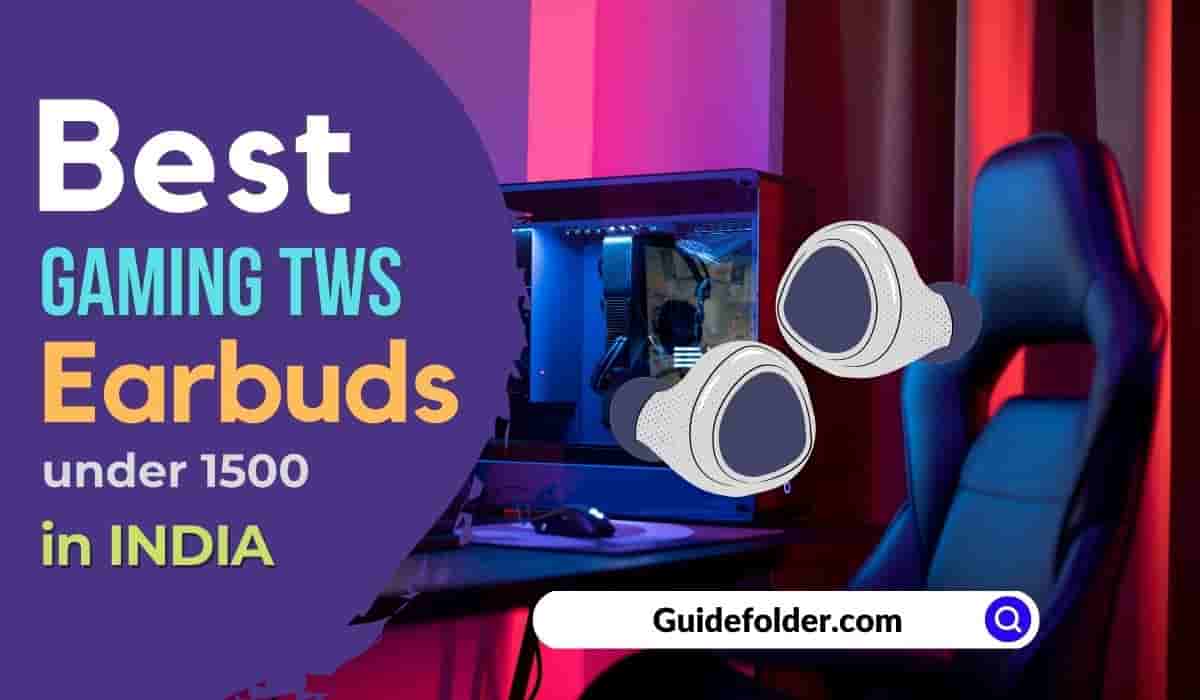 Build Quality: The boAt Airdopes 190 TWS earphones are stylish and comfortable. This appealing pair of RGB-enabled earphones has simple touch controls and voice assistant activation with just one tap. These connect instantly to the most recent associated device. Additionally, charging them is simple as soon as you open the case cover and put them inside thanks to IWP technology. Water resistance is certified as IPX4.
Sound Quality: The frequency response range of the boAt Airdopes 190 TWS earbuds 10mm dynamic drivers is 20Hz–20KHz. With these earphones, you will have a fantastic gaming experience because of the BEAST mode's ultra-low latency of 50ms. The earphones can give crystal-clear voice calls. During calls, the suit design and ENx Tech-enabled quad mics may filter out undesired background noise by 60%. As a result, you will be heard clearly everywhere you go.
Battery & Charging: If you play music at 50–60% volume and charge the boAt Airdopes 190 three–four times with a case, you can use it for up to (8–10) hours. With the charging case, they provide a total playtime of up to 40 hours. In just 10 minutes, the Airdopes Support Fast Charging may provide three hours of playback time.
Specs check
Price variations: The highest price ever seen for boAt Airdopes 190 is INR 1999/- while the lowest price is INR 1299/-. This is worth buying for/under INR 1600/-.
Related: How to reset boAt Airdopes 190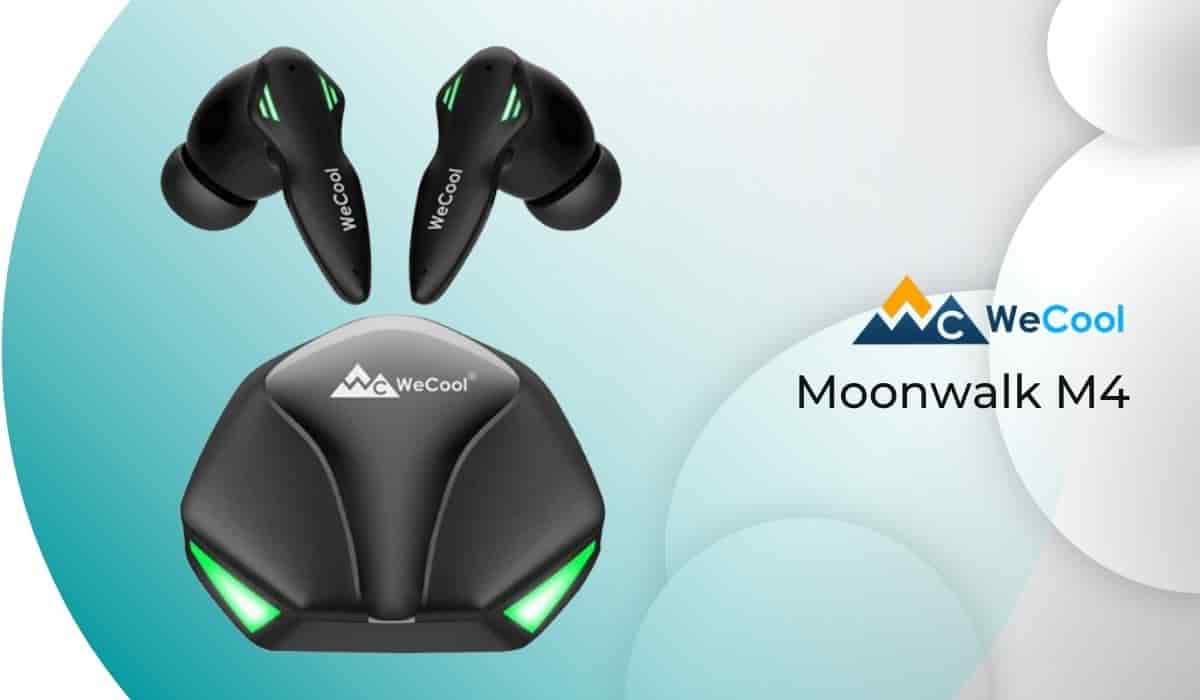 Build Quality: WeCool Moonwalk M4 has a unique design of both the charging case and the earbuds themselves. The flip opens the case from the side and features two regions with two green LED lights that glow while the earphones charge inside of it. For better fit on the ears, the earpiece is angled in some way. The overall construction quality is simple, yet it feels good considering the budget.
Sound Quality: The WeCool Moonwalk M4's audio quality is clear and about average or okay for this price range. On higher volume settings, the bass is highly audible, however, while using the earphones in game mode, it sounds strangely constrained and low. Whether the level is high or low, the sound does not crack or stutter. Other than this, using these headphones to play video games does not appear to have caused any problems.
Battery & Charging: The WeCool Moonwalk M4 offers a playtime of 24 hours, including the charging case, and 6 to 7 hours of playtime on a single charge. The entire earbud case and the earphones may be charged from 0% to 100% in around 1.5 hours. One case may almost charge two or three times for earbuds.
Specs check
Price variations: The highest price ever seen for Wecool Moonwalk M4 ENC is INR 4990/- while the lowest price is INR 999/-. This is worth buying for/under INR 1500/-.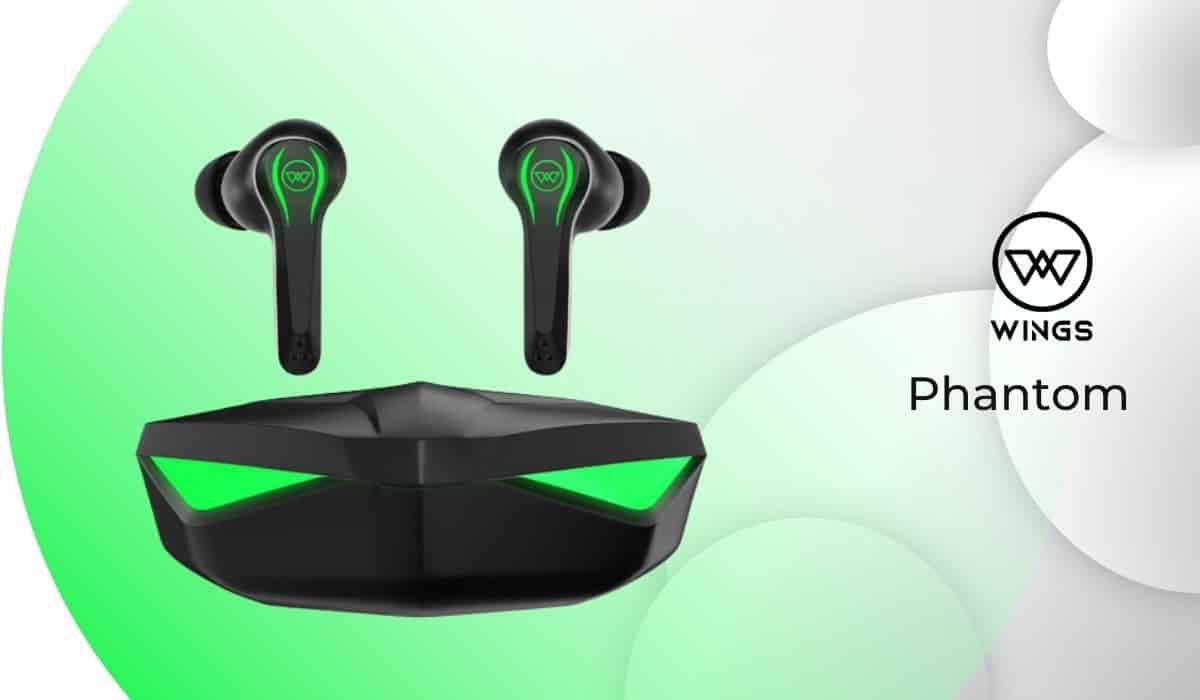 Build Quality: The Wings Phantom gaming earphone casing has a very ergonomic design. Two LED lights that light up as soon as the lid is opened can be seen on the front, along with the Wings logo at the top. However, it features a Type-C port on the back. The earbuds weigh roughly 50 grams and are comfortable for the ears. The Wings Phantom\'s casing and earphones are constructed of plastic, which feels excellent in the hand and is good for the
price.
Sound Quality: For drivers, 12mm is a very nice number. The sound quality of the Wings Phantom gaming true wireless earbuds will also enhance once you switch to the gaming mode. Even while I occasionally noticed a tiny absence of treble, it wasn't significant enough for me to give it any thought. Wings Phantom gaming true wireless earbuds for both listening to music and gaming. The latency is 65ms which is also excellent for gaming.
Battery & Charging: Regarding battery life, the Wings Phantom gaming true wireless earbuds didn't let me down. On a full charge, these earphones provided roughly 6 hours of battery life. The overall play duration with them is roughly 20 hours if we talk about the charging case. These earbuds feature USB type-C, a widely used rapid charging technology.
Specs check
Price variations: The highest price ever seen for Wings Phantom is INR 2999/- while the lowest price is INR 799/-. This is worth buying for/under INR 1500/-.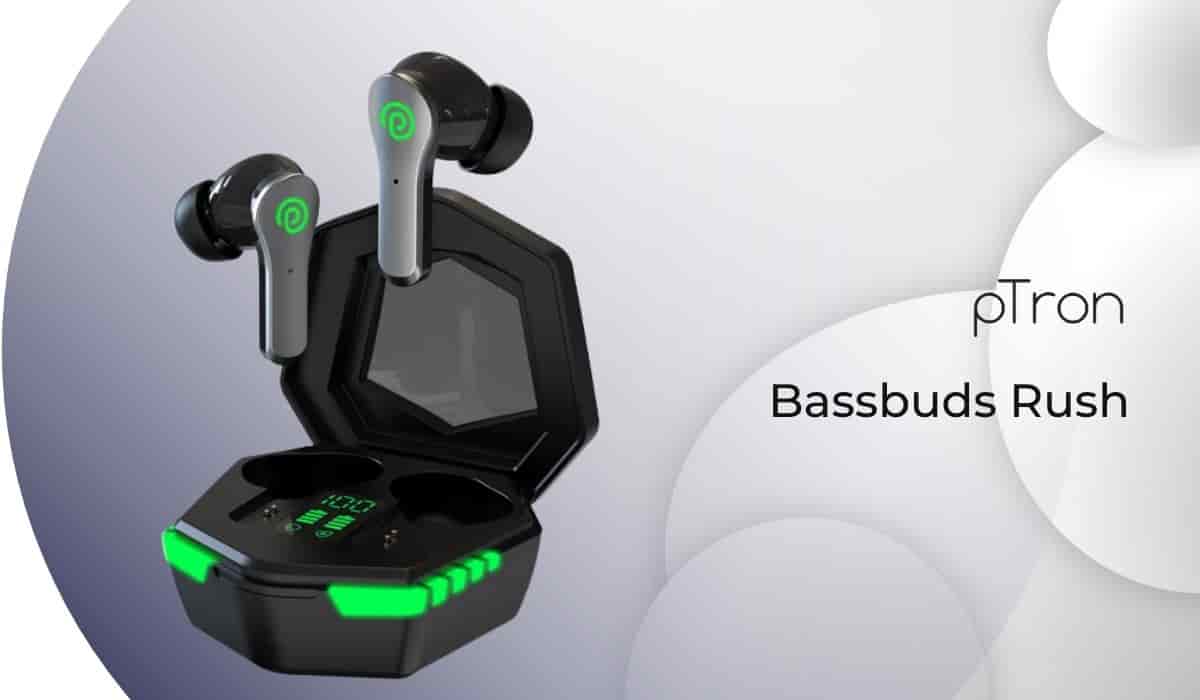 Build Quality: The pTron Bassbuds Rush offers a streamlined and contemporary appearance with a glossy finish and a small charging case. The actual earphones are quite small and light, weighing only 4.5g apiece. They have a variety of wingtips and earbud tips to ensure a snug and comfortable fit. They have a plastic construction and an IPX4 grade, which indicates that they are water-resistant.
Sound Quality: The sound quality might not be on pace with truly wireless earbuds that cost more money. For their price, the pTron earbuds have remarkable sound quality overall. The powerful, well-defined bass gives music and other media more depth and impact. Vocals and instruments have excellent definition and detail thanks to the mids and highs, which are distinct and well-defined. These have the lowest 40ms of latency, which is great for video games and movies.
Battery & Charging: The battery life of the pTron Bassbuds Rush earbuds is approximately 6 hours on a single charge and an extra 36 hours when using the charging case. They should have enough battery life for an entire day of moderate use on a single charge, while excessive use or prolonged listening sessions may cause the battery to deplete more quickly. They come with a small charging case that charges them entirely in around two to three hours and has a USB-C port.
Specs check
Price variations: The highest price ever seen for pTron Bassbuds Rush is INR 1799/- while the lowest price is INR 1099/-. This is worth buying for/under INR 1500/-.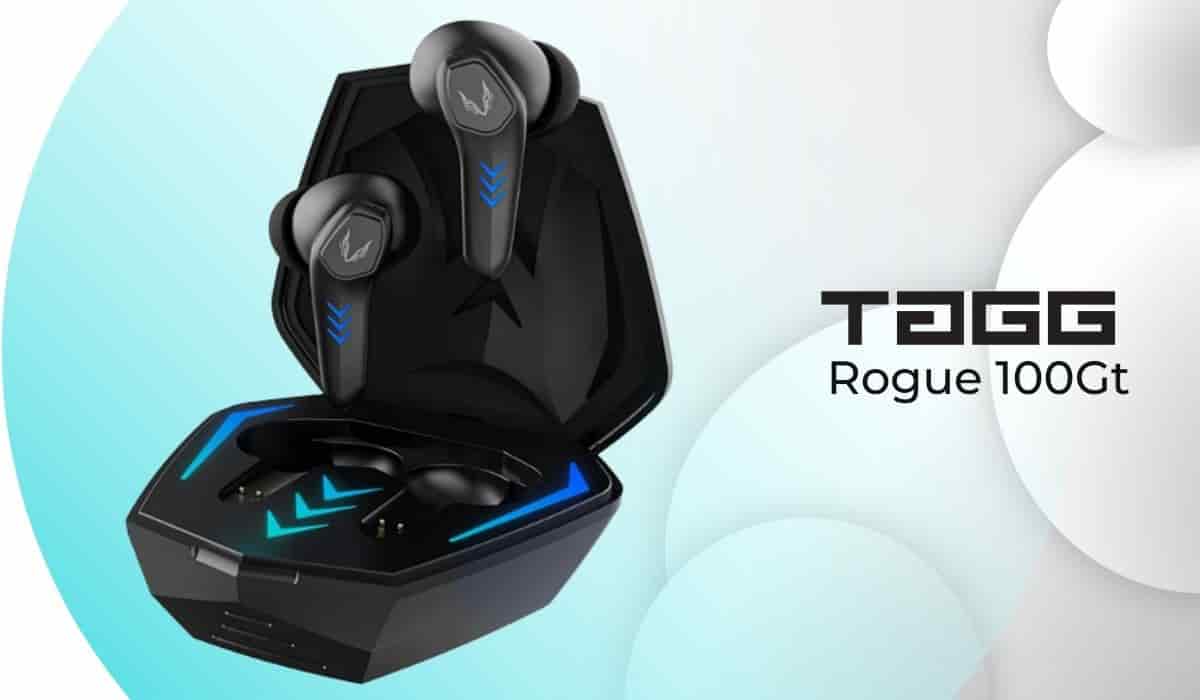 Build Quality: The TAGG Rogue 100GT are a pair of wireless earphones that simulate game headphones by using LCD lights. The earphone stick specifies the left and right side earbud indications and is made of high-quality plastic. The total weight of the earphones is 62g, which is more than typical. A set of TAGG Rogue 100GT earbuds weighs less than 4 grams without an IP certificate, yet the charging case is still compact.
Sound Quality: The TAGG Rogue 100GT True Wireless Earbuds employ a 10mm Dynamic Driver to offer strong bass and clear treble that is suitable for gaming. The Quad Mics can assist filter out background noise. While gaming, these offer 50ms ultra-low latency which is excellent for gaming and movies. These also have 3 modes for custom EQ- Gaming Mode, Punchy BassX Mode, Balanced Mode for Acoustics, and Vocals.
Battery & Charging: The TAGG Rogue 100GT makes no mention of the size of its battery. The earbuds alone have a playback life of about 5 hours, and the case offers an additional 15 hours of playback time.
Specs check
Price variations: The highest price ever seen for TAGG Rogue 100Gt is INR 1499/- while the lowest price is INR 899/-. This is worth buying for/under INR 1200/-.
Final Verdict
Although you will find similar features and qualities in the nearby earbuds, It is always better to go with a brand like boAt. The earbuds sometime may be a little more expansive than others but boAt Airdopes 190 is worth spending a little more due to their excellent customer service. However, there is not a single complaint in terms of the quality of the product.
Totally impressed with the design, audio quality, and built quality of Wecool Moonwalk M4 ENC. The whole case of the TWS is compact and can be easily carried anywhere which has a serious gaming presence. These two along with pTron Bassbuds Rush make the perfect trio without any miss.
Wings Phantom has favorable user ratings and numbers. So if you do not care about water resistance, you may also try these. But again there could be trust issues with after-sales support. TAGG Rogue 100Gt on the other hand might miss some important features but these are worth buying for under 1200. These are more focused on sound quality and have provided 3 modes of usage.
We have covered the best gaming headphones under various budget segments
which are given below here.
Let us know in the comment section below which gaming earbuds did you buy from our list of best TWS gaming earbuds under 1500 budget.