Jabra Elite 65t are popular truly wireless earbuds that o er excellent sound quality and are comfortable. However, it is not uncommon to encounter issues with one of the earbuds not working, which can be frustrating. To Fix Jabra Elite 65t Right or Left Earbud not working, we have written a detailed guide that you can follow to resolve the issue.
This problem like Jabra Elite 65t One side earbud not working can occur due to a variety of reasons, such as a software glitch, connectivity issues, or a hardware malfunction.
Let's find the solutions to fix the Jabra Elite 65t right or left earbud not working issue so that you can enjoy your music without any interruptions.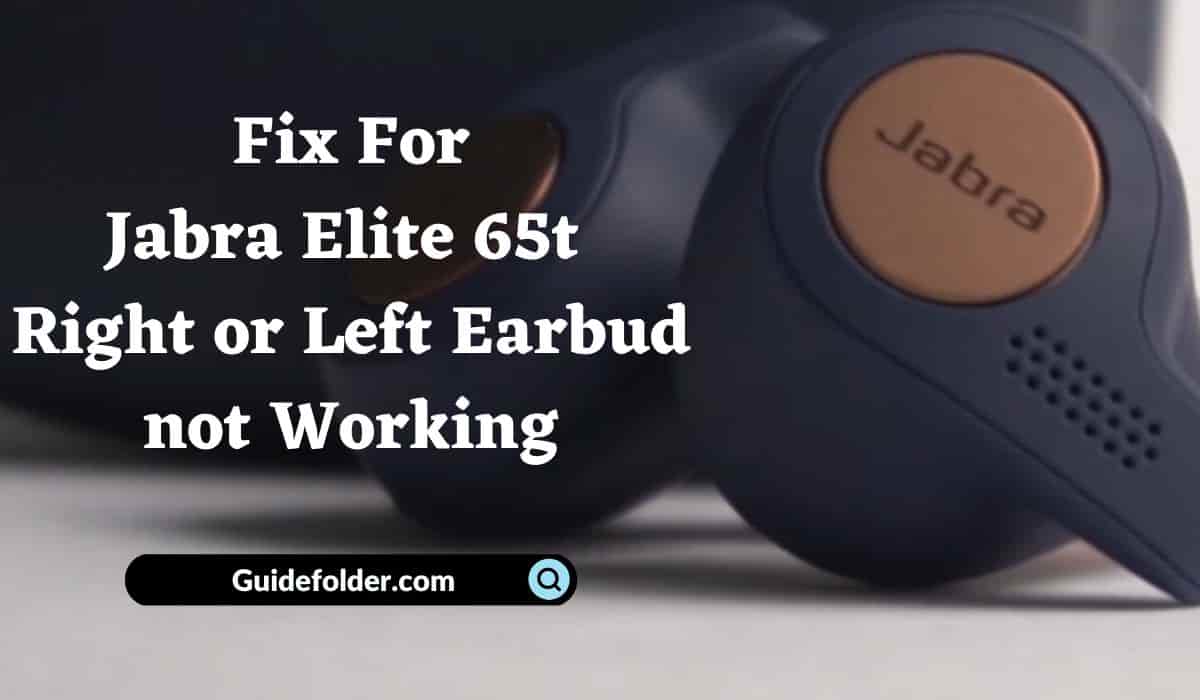 1. Charge The Buds
This is a common mistake that everyone makes. First of all, make sure that the earbuds should have a sufficient battery charge.
It is possible that the buds do have not sufficient battery because the charging case doesn't have a battery. So put the charging case in charge while the buds remain in the case.
Due to not having a sufficient battery in the buds, there may be issues like earbuds keep disconnecting, not pairing, etc.
2. Inspect Charging Components
As you all know charging components such as charging cables and charging adapters are very important to charge the earbuds and charging case.
So you have to make sure the charging components should not damaged. If one of them is damaged then you have to replace it with a new one to fix charge the Jabra Elite 65t Earbuds.
If anything goes wrong with the charging cable and charging adapter then the charging function will not work properly and it does affect the earbuds too like Jabra one side earbuds not working.
3. Clean the Charging Point and Sensor
Due to interruptions between the charging case and buds by not cleaning dust from the charging sensor of the charging case and buds, we face issues like earbuds not charging, and if the earbuds not charging then further the earbuds not working issues will arise.
So you must check the charging of both buds and cases whether they are clean or not. If they are not clean and filled with dust then you should clean that sensor by using tissue paper or a soft cloth.
After cleaning, try once to charge and check whether both the earbuds be it right or left are working or not. If not working then move on to the next step.
4. Bluetooth On and off
Also, Try this way by turning off and on both earbuds and smartphones Bluetooth. And then you can re-connect your Jabra Elite 65t to your smartphone and check the one-side earbud not working issue resolve or not.
How to turn off the Jabra Elite 65t?
Turning off the Jabra Elite 65t is so easy.
First Method: Place the earbuds back into the charging case to turn them off and take out the buds from the charging case to turn them on.
Second Method: You can also turn off and on the buds individually by just holding the Multi-Function Button on the right button or the Volume down button on the left earbud until the flashes red (off) or green (on).
How to turn off the Bluetooth of Smartphones? (iPhone or Android)
It is as easy as you turned off the Jabra Elite 65t.
Step 1: Go to the settings of your phone be it iPhone or Android.
Step 2: Go to Bluetooth Setting.
Step 3: Finally, tap to turn off the Bluetooth of your smartphone.
5. Update Firmware
Updating the firmware for Jabra Elite 65t is easy which you can do by using the Jabra Sound+ app. (Android or iPhone)
Step 1: After connecting the Jabra Elite 65t to your smartphone and setting up your earbuds in the Jabra Sound+ app, click on the setting icon in the upper right corner side.
Step 2: Go to Headset firmware.
Step 3: If there is an update, you can update from here.
This is how you can update firmware for your Jabra Elite 65t. Updating firmware may help you to fix one side earbud not working issue.
6. How to Reset Jabra Elite 65t?
In the end, if all the above methods do not work then try resetting once to fix the issues.
Step 1: Take out the right earbuds.
Step 2: Hold the Multi-Function button for 10 seconds until the LED flashes purple.
Now your Jabra Elite 65t has been reset.
Resetting the earbuds clears the list of paired devices and resets all settings. Now you have to re-pair the earbuds to your smartphone to check earbuds working or not.
Why is my Jabra 65t one side earbud still not working?
There may be another issue with the hardware part with the charging case or buds which is not figured out by us or you at home.
If none of the above solutions work, you may need to contact Jabra customer support for further assistance.
Contact Here on Jabra's official website
Wrapping Up
If you're experiencing an issue where one earbud of your Jabra 65t is not working, there are a few things that have been mentioned above that you can try to troubleshoot the problem.
If your Jabra Elite 65t Right or Left earbuds not working problem still continues then you need to contact the support team of Jabra.
Remember to always follow the manufacturer's instructions for proper use and care of your Jabra 65t earbuds to help prevent issues like this from occurring in the future.
Check out the Jabra Elite 65t User Instruction Guide.
Read Similar: