Are you an athlete? Do you like activities such as running, hiking, and other sports? If yes then you may hear of the Jaybird brand and then the question that arises in your mind could be, Is Jaybird a Good brand for headphones and earbuds?
Well, we have answered all your questions here that you want to know before buying any Jaybird product.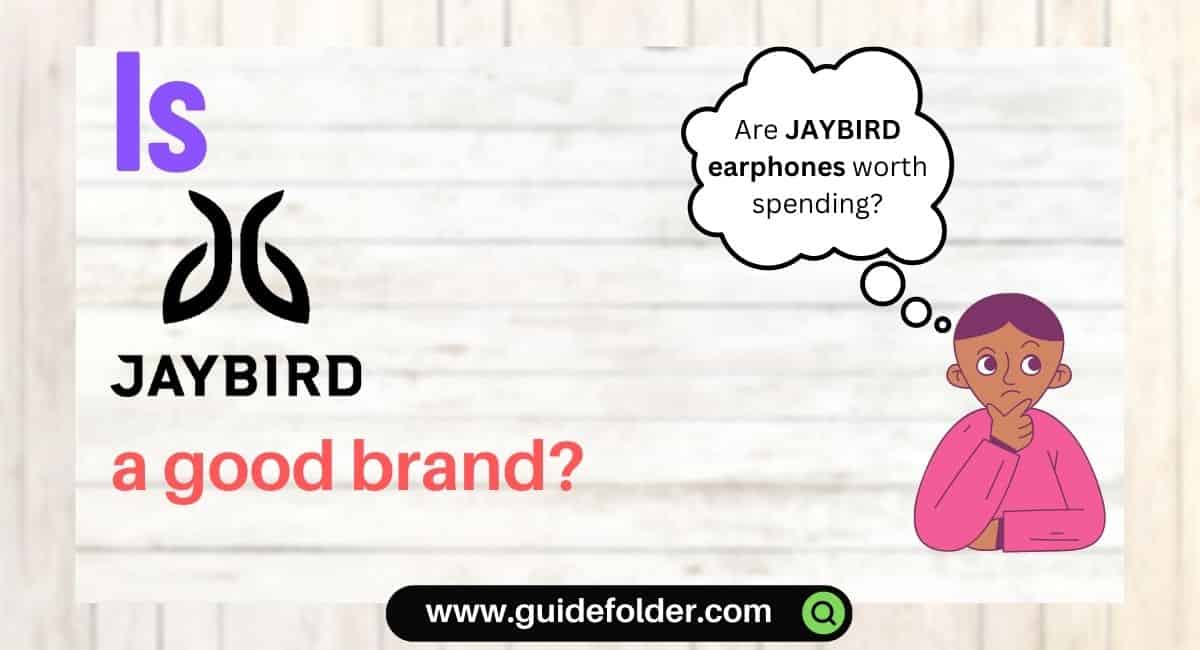 About Jaybird
Jaybird, a company that produces wireless earbuds and other audio products, was founded by Australian entrepreneur Judd Armstrong in 2006 in Salt Lake City, Utah, United States and Logitech owns it.
Jaybird has launched many headphones and earbuds for running, hiking, and other sports activities. The company sells its products through its official website jaybirdsport.com and amazon.
Jaybird products provide features like sweat-resistant and water-resistant products and they have also an app (Android | Apple) for customizing sound to your liking.
Is Jaybird a Good Brand for Sports Earbuds?
Yes, Jaybird is a good brand for earbuds. It offers many varieties of products and got good reviews on amazon.
They have been in the industry since 2006 and offer great quality products for adventurers and sports persons with their App which can be used to customize the sound and other features as you like.
How Long Does Jaybird Last?
As you read above that Jaybird earbuds are a good brand. It offers a 30-day money-back guarantee. (Source)
Well, the company provides a great quality product that's why the Jaybird earbuds can be used for a long time around 2 to 3 Years easily without physical damage.
Which are the best Jaybird Wireless Earbuds for Workouts & Sports?
There are limited products launched by Jaybird that you can consider buying for your sports needs or for everyday use too.
The first one you can choose is Jaybird Vista 2 comes with a secure it, ANC, 24-hour battery backup, and a 6mm audio driver.
The second is Jaybird Vista which has an IPX7 waterproof feature, secure it, 16 hours of playback time, and a 6mm audio driver.
The Third one is JayBird X3 which is a neckband earphone that comes with a secure it and got 4000+ reviews on amazon. It has 8 hours of battery backup. It is best the neckband earphones for sports and workouts. (Review on Youtube by Marquest Brownlee)
Wrapping Up
If you love doing exercise, and workouts or you are a sports person then you may hear the word Jaybird. Jaybird has launched affordable earbuds for sports and workouts which you can consider buying for yourself if you are planning to buy sports earbuds.
Check out the best Jaybird wireless earbuds which have listed below if you want to buy them.
Let us know in the comment section below if you liked the post.
You can check this Is Tranya a good brand?
FAQs
Is Jaybird owned by Logitech?
Yes, Jaybird is owned by Logitech. Logitech is a parent company of Jaybird.
What happened to Jaybird?
The Jaybird was acquired by Logitech Company on April 12, 2016.